Vachiralai showed great talent in the second half, as Sirikorn Winthachai and Natawot Thongkam came on as substitutes, each scoring a goal, and beat Suphanburi District Sports 2-0 in the final round, becoming the 2023 J-League Thailand Challenge champion. Ready for the big trophy
J.LEAGUE Youth Challenge Thailand 2023 J.LEAGUE Youth Challenge Thailand 2023 U-16 Football Championship Finals Thursday 9 November 2023 at Nonthaburi Stadium
For this competition, we were honored by J. League, Mr. Tetsuya Aida, CEO of Foreign Business. Participate in watching the competition and presenting prizes.
The final match is a meeting between Vachiralai School, where the last four teams won 1-0. Wat Suthiwararam School meets Suphanburi Regional Sports School. Won on penalties by Bothnemet School and Viva Them come to the qualifiers, starting at 4:30pm.
Halftime match, Suphanburi Regional Sports You can set up the game first. Attacking continuously, but still unable to get past Vachiralai's defense to score a goal. This left the end of the first half tied at 0-0.
I come back for the second half. Sports in Suphanburi Province also continued to invade but still could not produce the result
Until the 51st minute, Vachiralai entered the attacking game, and Sirikorn Wentachai had the opportunity to go 30 yards into the left-right area. The ball hit the far post very beautifully, giving Vachiralai a 1-0 lead.
Then, in the 67th minute, the match was characterized by full attack by the Suphanburi Sports Team, as the Pongsakorn Juchien team sent the ball to the player Ebuka Chukwudebelu to score a goal without catching it. But the ball went straight to goalkeeper Vachiralai.
The match continued until the 79th minute when Sirikorn Wintachai passed the ball to substitute Natawut Thongkhama, who had just been substituted. He slid into a one-on-one duel and slotted the ball past Suphan Buri Sports Dan, giving Vachiralai a 2-0 lead.
Then, in the remaining time, there were no further scores, and at the end of the match, Vachiralai School defeated Suphanburi Sports School 2-0, successfully winning the J-League Thailand 2023 Youth Challenge Championship.
List of players of both teams
Vachiralai School: Viachara Pimkasorn (Goalkeeper), Warakorn Pula, Thaniwet Kayumuwan, Napat Saralipaisan, Chakravon Upatha, Puchavun Road. On Padsu, Siriwit Arunothaipiphat
Suphanburi Provincial Sports School: Piawat Sabsawan (goalkeeper), Pongsakorn Goochian, Epoka Chukodipilo (Tan Natthanan Ploysuksai), Sukrit Sokmek, Natasak Phanduang (Tan Nirapat Hengthonglert), Phoothanit Somchit, Pipat Kongkerd, Busawi Thianthong, Nachanon Rakson, Teravon Phumkajo. rn, Kulacha Freklik (Tan Terasak Ubon Lirt)
As for the third place contender, it is a clash between Wat Suthiwararam School and Photinimit Witthayakhom School at 1:30pm.
The first half begins and both teams hope to take advantage of the opportunity to score and take the lead. But he still cannot penetrate the defensive play and is not sharp enough. The result is a draw 0-0
Back to the second half. Kirin Junior got off to a better start in the 58th minute through Vorivan Thanakornsirawat. A corner kick was thrown into the penalty area and the ball reached Tevin Enkhad and then returned to Pawaret Noseng, who put his foot down and sent the ball into the bottom of the net, giving Fotinimite Witayakom a 1-0 lead.
Then wat suthiwararam start setting up the game. Attacking in the hope of returning the target. But they were unable to break down Keirin Junior's defensive discipline, causing the match to end with Fotinmet Wittayakum defeating Wat Suthiwararam 1-0 to claim third place.
List of players from both teams
Wat Suthiwararam School: Narathorn Khammom (goalkeeper), Kantavong Srimai (Tan Jerbat Huikhunthod), Teuch Mongnitan, Phorit Sapchuinsawang, Supakorn Khankaw, Nat Korn Jitrimit (Tan Panawat Lohakit), Ratthakorn Chinnakatam, Wichakorn Santhiakon Vachirawit Aon (Tan Vithak Senri). Kritsanapong Kongchum (Tan Johan Moipu Ko), Terachai Wangvatarakiat (Tan Navasin Taingsaka)
Phothinimet Withayakhom School: Rithisak Kanlaya (GK), Phattharaphong Prakanik (Tan Kitpat Bunduang), Vorivan Thanakornsirawat (Tan Kitipat Srikham), Shayanat Sairin (Tan Seraphat Mekayo), Tirat Khim In, Pawarit Nosing, Thanadon Funson (Tan Worawit Daengthongsay). Kangkla Sakayo (Tan Sankavong Aksorundam), Sakonkan Mikrajay, Theuyen Enkad, Kongphob Thien Nguyen
Summary of competition rankings
Winner: Vachiralai School Receive a cash prize of 120,000 baht plus a championship tray and medals.
First place: Suphanburi Sports School Receive a cash prize of 60,000 baht and a medal.
Second place: Bethenemet and Long Live School Receive a financial prize of 30,000 baht and a medal.
Third place: Wat Suthiwararam School Receive a prize of 15,000 baht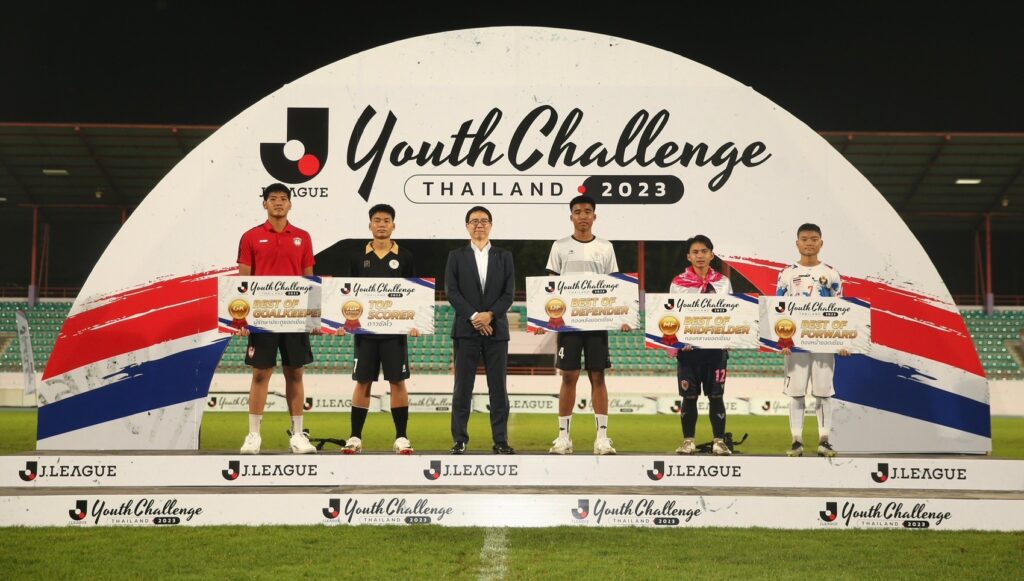 While the top scorer award went to player number 7, Wachirapong Thammamar from Nakhonon Wittaya 6 Sports School, who scored 4 goals.
The best goalkeeper award goes to player No. 1.
Ritisak Kanlaya of the Bothnemit and Thathayachom Schools
The best defender award goes to player number 4.
Phurich Saphuen Sawang from Wat Suthiwararam School
The best midfielder award goes to number 12.
Kritsanapong Saenwongma from Vachiralai School
The best striker award goes to player number 7.
Natasak Phandwang from Suphanburi Sports School
All five players will receive a J-League trip in Japan, a trip to practice football skills. And watching the J-League competitions in Japan, the prizes were presented by the J-League, Mr. Tetsuya Aida, CEO of International Business. Participate in watching the competition and presenting prizes.
For the J.LEAGUE Thailand 2023 Youth Challenge (J.LEAGUE Thailand 2023), it received a good response. The organizers hope to bring happiness and create opportunities for short-legged footballers to have a platform to showcase their football talents.

See more news
"Typical food guru. Problem solver. Devoted beer practitioner. Professional reader. Baconaholic."