This era is an era of change. Especially since our world has Internet technology. Everything seemed so fast. Many companies that were successful in the past have been profitable for a long time. Coming into the current era, it may not be possible to make profits as before. Every entrepreneur must have new skills to "improve and change the business" according to changing conditions.
In Japan, there are many types of companies experiencing business disruption or changes in the way of doing business. They often arise from new technology. Changes in customer behavior or other factors that cause existing businesses to adapt or create new innovations in order to survive existing businesses, which have a significant impact on the business
In this article, I will present ways to deal with business disruption and give an example of a Japanese company like Sony, which was able to transform itself to be able to survive business disruption and survive until now. Just in case it's an idea for anyone who needs guidance on dealing with this.
Sony is a leader in the gaming console industry. And world-class entertainment media players because many products are famous and known to people all over the world, for example PlayStation game consoles and Sony Walkman portable music players that have changed the music listening behavior of humanity all over the world. Including electrical appliances, audio systems, headphones and digital cameras, it can be said that Sony has been at the top for a long time. But big companies like Sony also made gains
The effects caused by business disruption are as follows:
1. Income has decreased significantly.
From the digital camera business specifically, from 2010 to 2019, Sony's digital camera sales declined from 17.5 million units to 6.1 million units due to changing customer behavior due to the popularity of using digital cameras. Switch to using the easier and more convenient smartphone camera.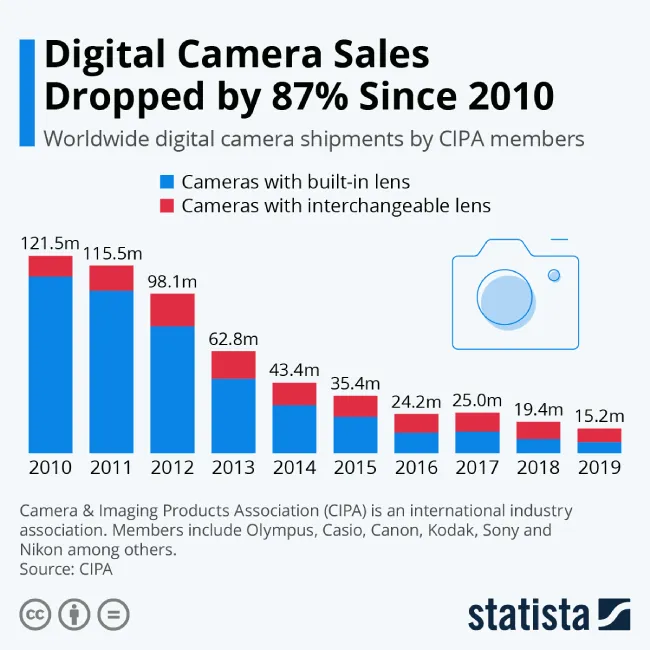 Image credit: Statista
Global digital camera sales have declined by 87% since 2010.
Statistics from the Camera and Imaging Products Dealers Association (CIPA) whose members include Olympus, Casio, Canon, Kodak, Sony, Nikon and others.
2. Changes in the online gaming industry
It can be seen that over the past 20 years, many of Sony's competitors in the game console industry, such as Microsoft, released Xbox Live in 2002, which allows users of the Xbox video game console to play multiplayer games through online channels, Nintendo The company, Sony's main competitor, released Nintendo Switch Online to help open up game players to the Nintendo Switch, a portable gaming device that is a major competitor to Sony's PlayStation gaming console, allowing them to play multiplayer games through online channels in 2018.
There is also Tencent, a Chinese IT company that owns many online games such as ROV and PUBG, which has changed people's gaming behavior from playing console games to playing more online games. To date, the company has grown to become the number one online game production company in the world, with revenues surpassing Sony's game production business.
3. Changes in the entertainment media industry
Customers' behavior in watching entertainment media from watching movie and TV shows mainly There has been a change in watching media through online streaming platforms such as Netflix, Amazon Prime and Disney+, which made Sony Pictures adjust itself to adapt to this change, such as signing a contract with Netflix to grant streaming rights The new films will be released between 2022 and 2026, and it has also signed a deal with Disney+ (one of Netflix's competitors) that gives it the rights to Spider-Man and other Sony Pictures-owned franchises on Disney+ after its contract with Netflix expires in 2026.
What Sony did to overcome business disruption
1. Since digital camera sales were declining, try to develop by producing new products that respond to current lifestyles, such as the Sony ZV-E10 or a vlogging camera with interchangeable lenses. It's built-in. Suitable for ordinary people who want to create their own media (Creator). The camera has superior features over smartphone cameras. This camera is an important part that makes Sony successfully win the first place in mirrorless camera sales from the statistics of the first half of 2023 in Japan.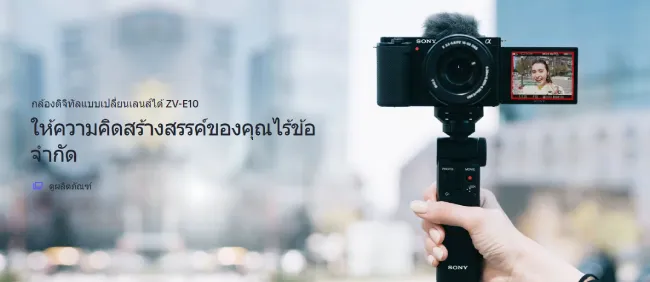 2. Investing in startups and new technology For example, Cogitai, a startup working in the field of artificial intelligence. Bringing in experts from around the world to assist including opening a new business unit, the Sony Startup Acceleration Program (SSAP), which aims to use Sony's business knowledge and capabilities accumulated over a long period of time. To be mentors to new entrepreneurs who have dreams of pushing their ideas towards success. Since its inception in 2014, this project has managed to push many new products to the market.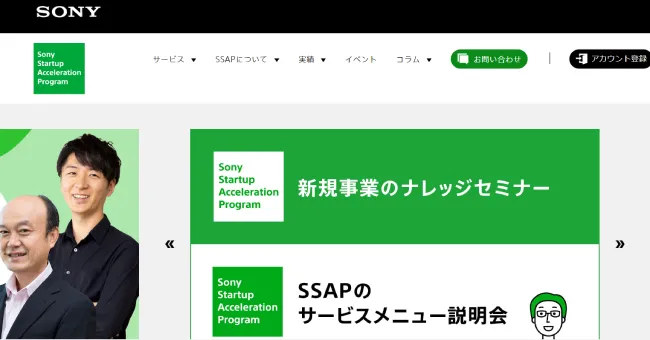 3. Develop an intelligent online streaming platform, PlayStation Network, which integrates broadcast systems for games, TV shows and other entertainment content to support users' online entertainment needs. It is arguably the leading producer of game consoles in the past that has managed to expand its products up to the present.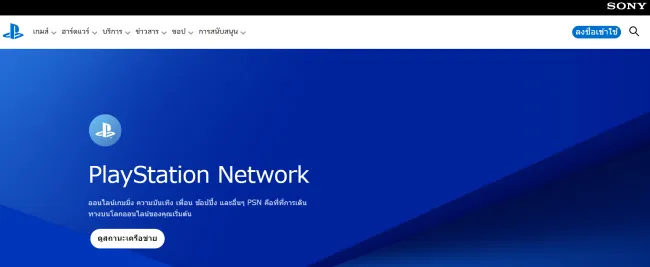 These are some examples of Sony dealing with business disruption situations that occur in an era of rapid technological change. As a result, big players like Sony will have to adapt. To maintain an advantage in the industry in which we operate
Guidelines for surviving in an era where business disruption is constant.
I believe that this era is the era that witnesses the fastest changes in the business environment. There is an opportunity to increase speed as well, so as a business owner and entrepreneurs you should have guidelines to deal with business disruptions that may happen to your company at any time. I would like permission to recommend the following method.
1. Outsourcing: Hiring experts to help develop technology for the company. To add new perspectives to deal with business disruptions that may happen to us at any time. The reason behind hiring outside experts is that most companies rely on past successes. Don't you dare change anything that seems risky. Which causes lost opportunities to develop new things for the company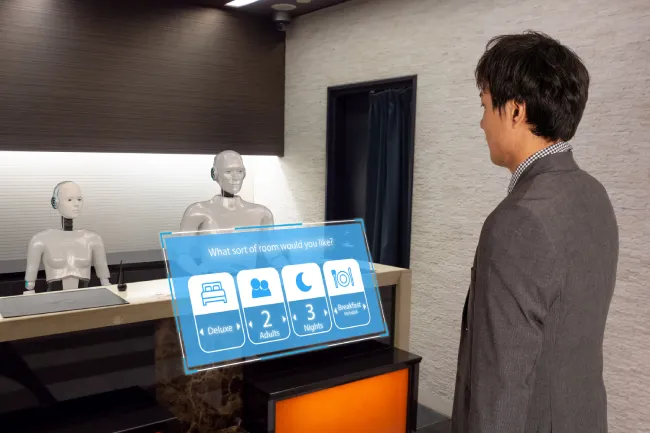 2. Development and full use of information technology to keep pace with rapid changes in technology, such as the use of big data and artificial intelligence to benefit the company's business. Adopting these technologies for regular use will make the organization more resilient in the face of rapid changes.
3. Try to find new markets with existing knowledge An organization, such as Sony, uses knowledge about expanding existing businesses to develop new ideas into products. Or services that have already happened, giving birth to a company called the Sony Startup Acceleration Program (SSAP), which searches for new markets using existing knowledge Very low cost but may require the use of brainstorming from employees in companies that work closely with customers . Who understands customer needs the most
We hope this article helps readers understand the business disruption that is most impacting our business. Along with ways to prepare to deal with such situations from the beginning, which will not only help entrepreneurs adapt, but will also help create new opportunities for their businesses.
Thank you for the good information from:
"Unapologetic communicator. Wannabe web lover. Friendly travel scholar. Problem solver. Amateur social mediaholic."