HONOR, the world's leading smart device provider. Organizing the hottest year-end HONOR Go Beyond promotion to delight customers at the Thailand Mobile Expo 2023, the country's largest mobile phone exhibition at the Queen Sirikit National Convention Centre. From October 26 to 29 with MEGA SALE, a special discount of up to 5,000 baht and many additional gifts. You can find every HONOR product range and products packed with cutting-edge innovations and outstanding power. Ready to support full Google Mobile service at dealer kiosks including BaNANA, AIS, Jaymart, TG Fone and LAKECOM with great promotions as below:
Special deal with HONOR Magic Series, the latest flagship model.
Worth the next two with HONOR Magic5 Pro 5G, HONOR's latest flagship model launched in the middle of this year with an overwhelming response that revolutionizes photography with a high-level camera with a resolution of each lens up to 50MP with up to 100x zoom, providing a high-end experience at a very special price. 28,990 baht (from the regular price of 29,990 baht) and get a free HONOR Choice Earbuds X5 worth up to 1,290 baht to use together for complete entertainment.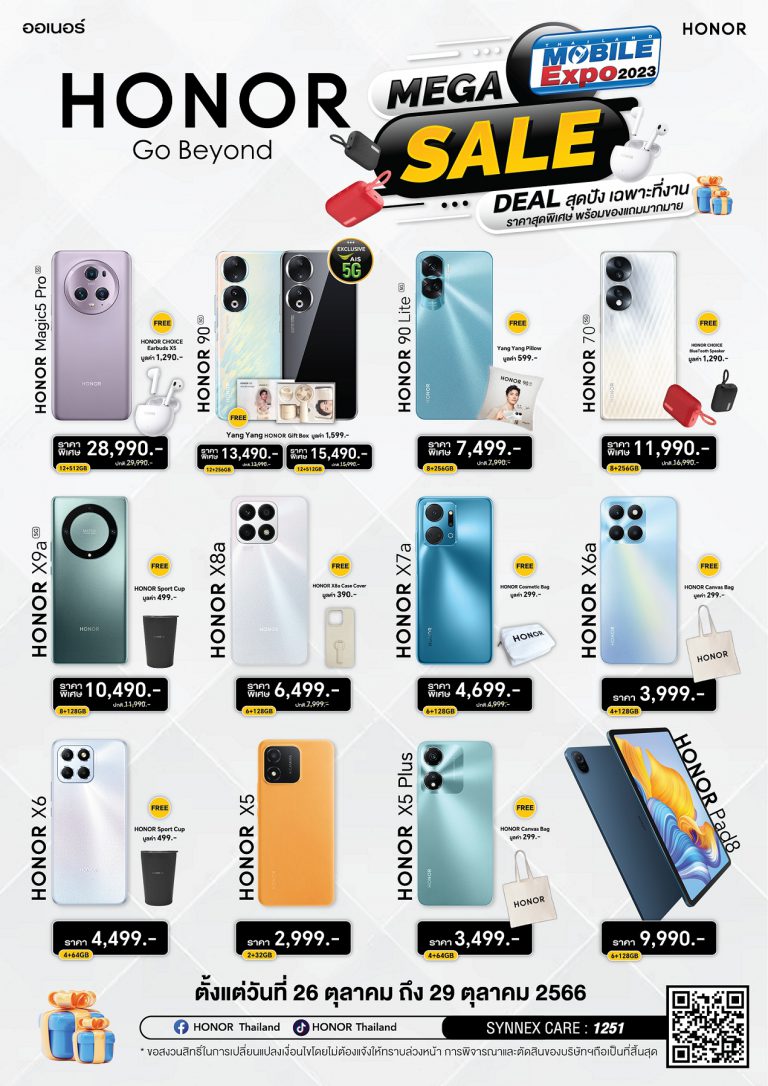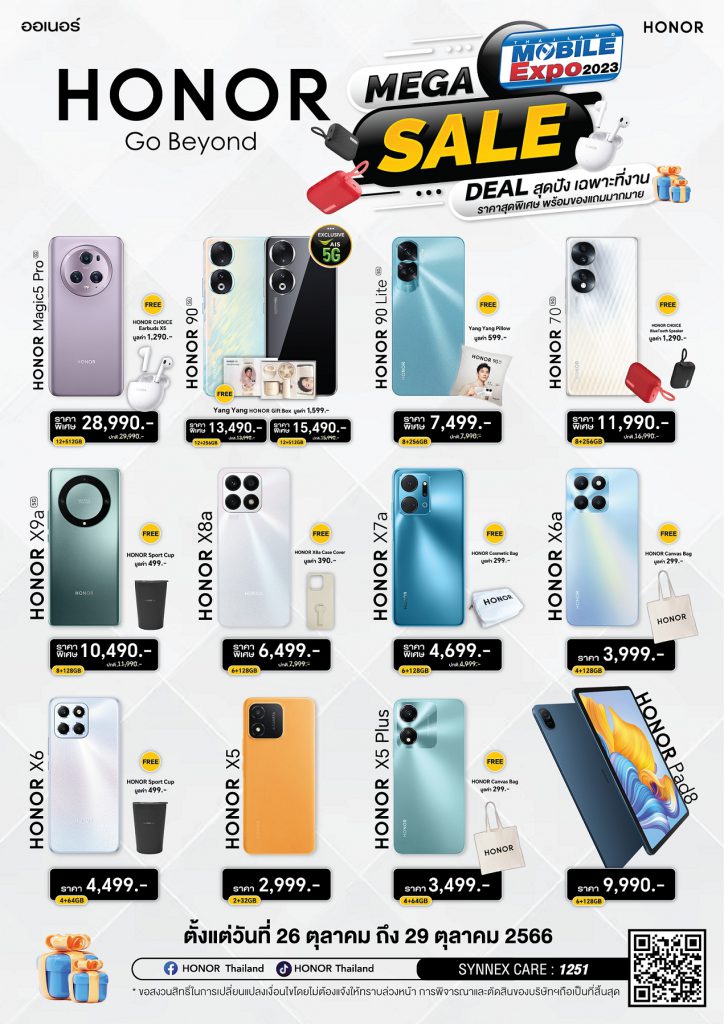 Bringing a whole team of professionals with the HONOR N Series to satisfy "Yang Yang" fans.
· Experience world-class features with the latest HONOR N series, HONOR 90 5G, which has Yang Yang, a Chinese star, as its global brand ambassador, and is equipped with powerful camera specifications with a 200MP main camera for capturing photos. Any shot is great" and PWM Dimming 3840 Hz eye-care technology at a special price of 13,490 baht (from the regular price of 13,990 baht) for the 12+256GB model. In addition, the event also comes with the Midnight Black model. The most premium capacity 12+512GB Available only at the AIS booth for just 15,490 baht (from the regular price of 15,990 baht) HONOR has given away a surprise to please Yang Yang fans and for those who buy the HONOR 90 5G in any color and get it for free! HONOR Yang Yang Gift Box worth 1,599 baht, plus That said, the younger generation smartphone, HONOR 90 Lite 5G, comes at a special price of 7,499 baht (from the regular price of 7,990 baht), get it for free! Yang Yang Pillow worth 599 baht as well.
· That's not all, HONOR is also offering a discount of up to 5,000 baht when you purchase the HONOR 70 5G smartphone with a curved screen. The premium luxury design comes with features for the Vlog line at a whopping price of 11,990 baht (from the regular price of 16,990 baht). Get it for free right away! The HONOR Choice BlueTooth Speaker, worth 1,290 baht, completes the experience of using all functions, allowing you to create content without interruption. Add fun to every situation
More worthy than before! With the promotion of the HONOR X Series collection
· Sports Honor Cup worth 499 baht
· HONOR X8a, the ultimate ultra-slim design. Lightweight yet feature-packed with a 100MP main camera. At the event, HONOR is guaranteeing a great deal at a special price of just 6,499 baht (from the regular price of 7,999 baht), followed by free gifts like HONOR X8a Protective Cover, Premium Design, Value Great 390 baht
· HONOR X7a, a smartphone equipped with a durable 6000mAh battery that can last all day long. With a smooth 90Hz refresh rate with a premium design it comes at a special price of 4,699 baht (from the regular price of 4,999 baht) and get it for free! HONOR Cosmetic Bag worth 299 baht, especially for coffee lovers.
· HONOR X6a, the latest smartphone launched in Thailand last September. Break the limits of small smartphones with more battery power that can run smoothly all day long thanks to a 5200mAh battery and 22.5W HONOR SuperCharge technology that can charge up to 31% in just 20 minutes.Comes at a great price of only 3,999 baht and Special for this event only! Get a free HONOR Canvas bag worth 299 baht, a favorite bag for HONOR fans.
· HONOR X6, a small smartphone but comes with a full set of specifications. With various camera features like portrait, panorama and time-lapse photography, you can pay attention to every shot. Get beautiful photos to post on social media for every situation. Responding to the lifestyle needs of the new generation at only 4,499 baht, very special for this event. Get free gifts! Sports Honor Cup worth 499 baht
· HONOR X5 Plus comes with equally complete specifications. With a large 5,200mAh battery, backed by a 50MP main camera and a powerful 90Hz refresh rate, it streams seamlessly without interruption in every use. Ready to experience the value for only 3499 baht, get it for free! HONOR Canvas Bag worth 299 baht
It can be said that this is an event that IT enthusiasts and HONOR fans should not miss with a special deal at the end of this year. It reinforces HONOR's commitment to delivering cutting-edge technology at an accessible price. At more value than ever at Thailand Mobile Show 2023 from 26 to 29 October 2023 only, follow the details and ask for more information on Facebook: Honor of ThailandTik Tok: Honor of Thailand Or call SYNNEX CARE on 1251 and press 1
Comments are welcome!
comments
"Unapologetic communicator. Wannabe web lover. Friendly travel scholar. Problem solver. Amateur social mediaholic."