Looking from the outside we can clearly see that this is a competition between two superpowers that want to win the hearts and minds of the rest of the world.
The comparison picture is clearly visible…on Wednesday when Xi Jinping announced the opening of the Belt and Road Initiative Forum (BRF) in Beijing. We saw pictures of President Joe Biden flying to the airport in Israel.
They were received at the edge of the plane by Israeli Prime Minister Benjamin Netanyahu.
Amidst the smell of war between Israel and Hamas.
Widespread anti-Israel protests in many countries. Middle Eastern countries
After a bomb exploded on a hospital in Gaza, killing hundreds of people.
There are two stark contrasts that reflect the roles played by Xi Jinping and Biden, who are moving in opposite directions.
In his opening remarks in Beijing, Xi Jinping spoke about the project. The Belt and Road Initiative, which celebrates its 10th anniversary this year, said the future will be "small and beautiful."
In a speech to about 1,000 foreign leaders and businessmen in Beijing, Xi proposed enhancing connectivity by merging ports. As well as sea and land routes between Asia and Europe.
"Cooperation under the Belt and Road Initiative has moved from sketch to precise drawing."
Originally it was just a plan. But today it has become a reality thanks to a number of major projects.
Whether it is a small, beautiful project that benefits people."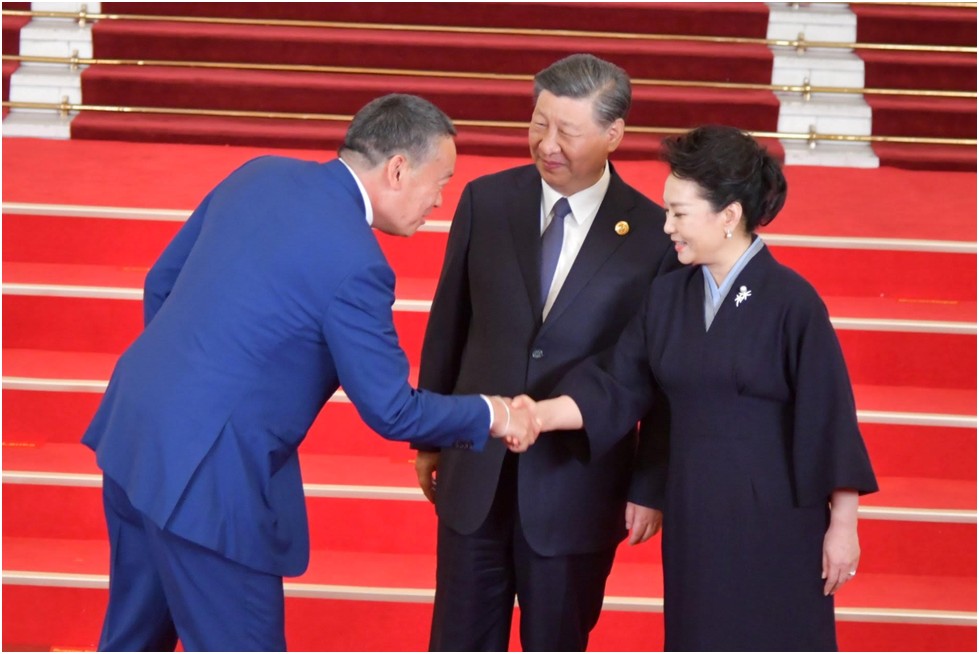 In all, Xi's plan includes eight points, many of which are closely linked to Beijing's goal of sustainable growth. "High quality" in the long term.
1. The "logistics corridor" linking Europe to Asia
2. "E-commerce zones on the modern Silk Road" with more free trade agreements and investment treaties.
3. Establish a financial fund worth US$47.8 billion (about 1.7 trillion baht) from various Chinese development banks. Together we are ready to support various projects
4. Push for "green development"
5. Commitment to developing science and artificial intelligence
6. More cultural and people-to-people exchanges including travel partners
7. More "clean collaboration" to improve transparency
8. Efforts to establish the Belt and Road Institute, including the secretariat
The most prominent visitor is probably President Vladimir Putin.
It includes about 20 heads of government and representatives of about 140 countries in total.
It is clear that the countries that do not want to participate are most likely Western countries.
Including India, which sees China's Belt and Road Initiative as an obstacle to strengthening relations between the two countries.
On the same day on which this Agreement was opened. The Chinese official also announced the Chinese economic growth rate for the third quarter…at 4.9%.
This is not a bad number, although it is lower than the 6.2% recorded in the same quarter last year.
But it is still higher than analysts expected.
Because the Chinese economy is growing at a much slower rate than it was a decade ago. Beijing's willingness and ability to continue pouring money into the Belt and Road Initiative is a subject of major analysis.
But it must be admitted that Xi Jinping has put a lot of effort into this project.
Because it is the "key policy" of Chinese foreign policy under his leadership.
The main goal is to connect China with Europe and Africa.
Increasing China's influence and standing at the international level
At dinner before the meeting opened, Chinese leaders pledged, "We must move forward with enthusiasm. Enthusiasm for a new journey to another golden decade."
China did not disclose the total funding for its global initiatives.
But analysts at some US consulting firms estimate that about $1 trillion has been borrowed so far.
In his opening speech, Xi announced that the China Development Bank and the Export-Import Bank of China will establish a financial facility worth 350 billion yuan (48 billion US dollars).
In addition to pumping 80 billion yuan into the Silk Road Fund to support various projects. "Through a market-oriented and commercial approach"
China refuted Western accusations that the countries participating in the project fell into a "debt trap" and became dependent on China.
Some analyst houses claim that non-performing loans or "bad debts" are also piling up alongside the Belt and Road Initiative.
With new negotiations, $76.8 billion in debt was restructured or written off between 2020 and 2022.
That's according to US research firm Rhodium Group, which originally said the distressed debt figure stood at $17 billion over the past three years.
But Xi Jinping insisted on Wednesday that such initiatives are a matter of "cooperation and mutual benefit."
At the same time, the Western world has warned against this policy and offered to "de-risk" its relationship with China.
This is called de-risking, which reduces the heat of separation.
But China maintains that the spirit of the Belt and Road Initiative is a guideline against the integration of countries for political purposes.
He opposes the use of unilateral sanctions.
Beijing reiterates its opposition to Western trends towards economic coercion. And separation from each other
Colors emphasize commitment to different activities. This includes the establishment of pilot zones for cooperation in the field of e-commerce.
and increasing free trade agreements with Belt and Road Initiative participants.
China's foreign trade is expected to exceed $32 trillion between 2024 and 2028, after the total trade value reached $6.3 trillion last year.
Besides Putin, other participating leaders from ASEAN along with Prime Minister Sitha of Thailand were Indonesian President Joko Widodo. Prime Minister of Cambodia Hun Manet
Other countries in the Asia-Pacific region include Kassym-Jomart Tokayev of Kazakhstan,
Shavkat Mirziyoyev of Uzbekistan, Thongloun Sisoulith of Laos, Ukhnagyin Khurelsukh of Mongolia, James Marape of Papua New Guinea, Ranil Wickremesinghe of Sri Lanka, Phu Van Thong of Vietnam, Interim Prime Minister of Pakistan Anwar Haq Kakar, and the Afghan Taliban regime sent Trade Minister Haji Noordin my dear.
One need only look at the list of participants to get a picture of how polarized the world has become.
Although in many countries, including Thailand, we insist that we will not "choose sides."
"Subtly charming student. Pop culture junkie. Creator. Amateur music specialist. Beer fanatic."