Every journey has a meaning. Even though you will be going to the same place, believe me, you will have a new and unique experience. Whether from time or from the people who have changed If you don't believe it, prove it with us in…Singapore.
Have you ever wondered if Singapore is a small country? There are not many natural attractions. But there is never a shortage of tourists. This event is a credit to the Singapore Government's vision in creating new points of sale. Always giving back to the country. For example, in the past few years, the city being an arts city has been well promoted. There are fascinating exhibitions all over the city, and this year the Singapore Tourism Board is organizing a trip to invite the media to experience Singapore in a new light. And this time, there will be some interesting things you can visit and see.
Travel to Singapore from a new angle, your heart. It lasts
I think many people have already been impressed by Singapore's policy of organizing and increasing green spaces. But if you visit Singapore during this period, you will be more impressed because the government has made an effort to add more green areas. Including giving importance to sustainability (sustainability) seriously as well.
Changi Jewel
Let's start on the Singapore Airlines plane. They deliver food in packages that love the world, in the right amount, and are delicious on the way back and forth. What a surprise, I ate everything and there was no leftovers.
Upon landing, you can easily pass through immigration by simply scanning the QR code and filling in the information. We then stopped at Jewel Changi to take pictures and check out the waterfall in the middle of the mall which is now so hot that it is about to become Merlion 2 (it is currently closed for repairs).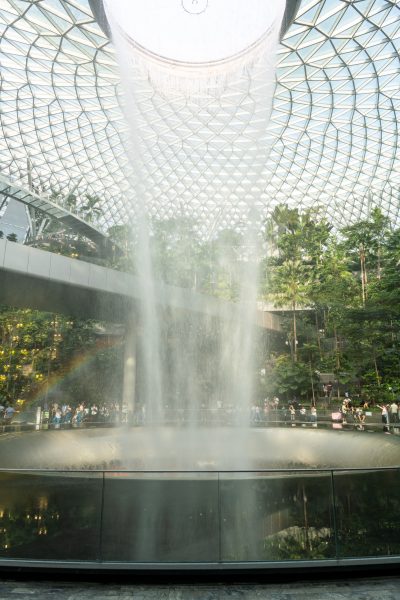 In addition to the freshness and beauty of the waterfall, the surrounding area is also designed to be a comfortable place to sit and rest. And look at the water running between the green trees, big and small. Think about how he was able to create this shaded space in the middle of the shopping mall! The more than 9,000 pieces of glass surrounding the Changji Jewel are also said to be designed to adjust temperature and light according to the outside environment, which can save a lot of energy.
Capita Spring Building
On our way into town, our guide showed us some of the new buildings. With green inclusions, it looks easy on the eyes. You can see that every building is united in going green because in the last 5 years the government issued a rule that every new building must have 10% green space, and every building has taken this issue, interpreted it and designed it elegantly. Some buildings have trees strung vertically upwards. Some buildings are designed to have green spaces running along the floors. Some buildings have a garden in the middle. As for old buildings, they will be encouraged, not coercive. But as you can see, there was good cooperation.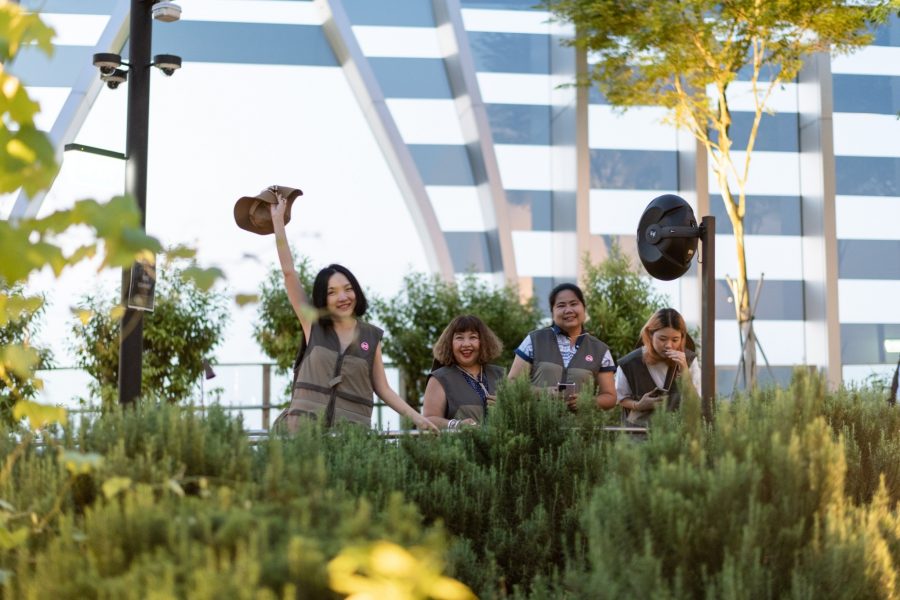 Like the building we went to see. Capita Spring Building The rooftop is designed as a large garden with a walkway up the hill and stairs to view the garden in various forms, including foliage, fruit trees and even a kitchen garden. It is open to the general public to relax, enjoy the green spaces and view the city from a bird's eye view. However, it is closed in the evening as that is the time the rooftop restaurant and bar are open. We had dinner in the restaurant here. 1 Jordan It is a popular restaurant that serves gourmet menus that use some ingredients from the garden.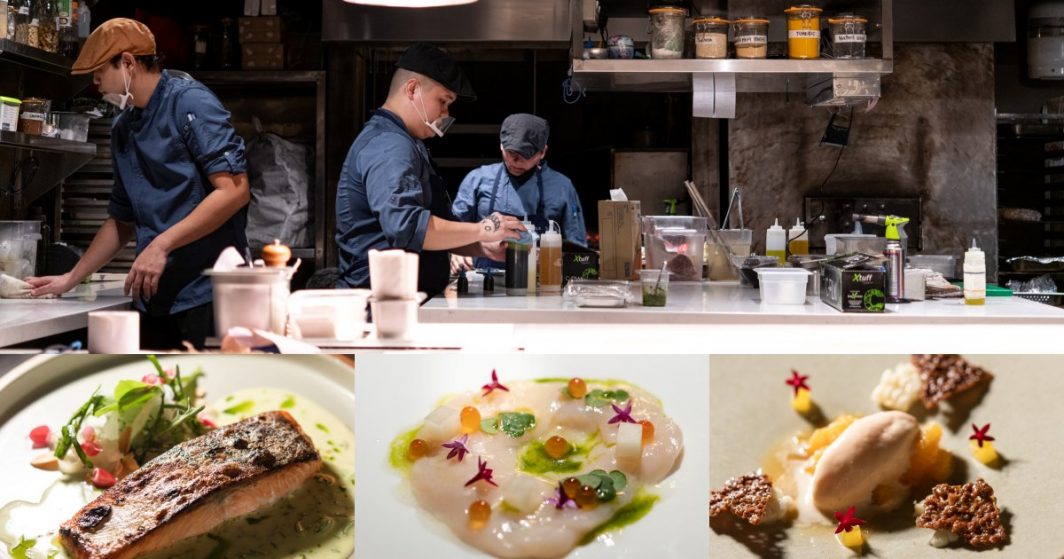 Jinli
I want people with hearts to love fashion as much as I do. With love, the world recognizes this brand! This is fashion's next step towards sustainability. Because every production process reduces waste and is beneficial to the environment with all our hearts. It is a brand that does not produce a lot of inventory, and there are no sales, but it encourages customers to order with special discounts.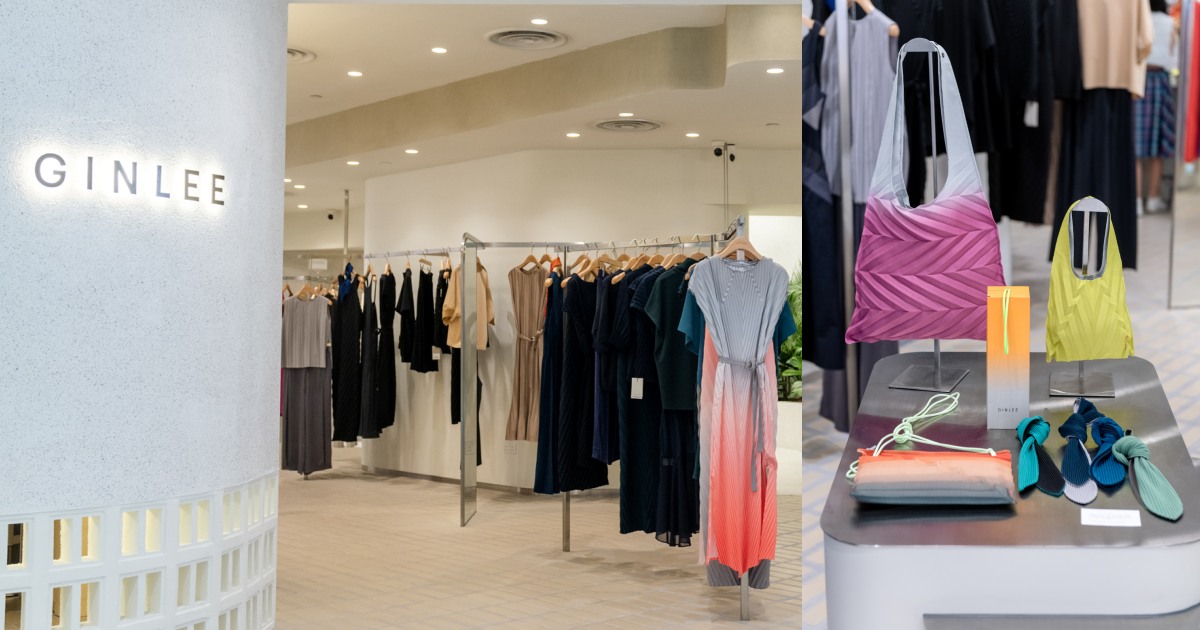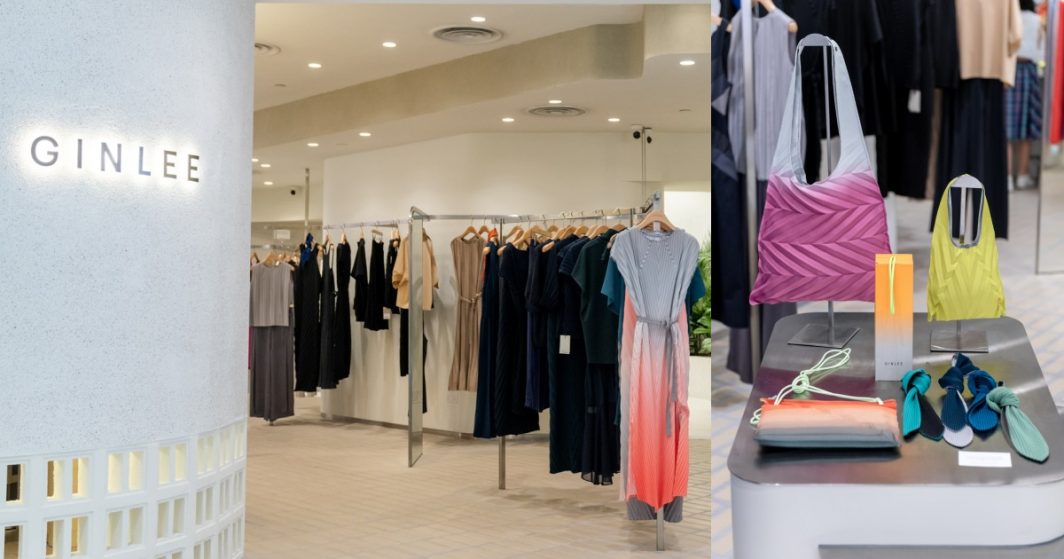 The products of this brand feature the manual folding method, which means that the folding pattern is drawn by hand and then placed in the dryer. The brand will fold the entire piece of fabric for each outfit, for example, one dress uses fabric in that size, take that piece of fabric, fold it and then cut it. Therefore, each set is uniquely handcrafted. It also helps reduce the amount of fabric that is cut and discarded. The fabric that must be cut and the fabric left over from making the costumes is used to design other products such as bags, phone cases, etc. It can be said that it is hardly wasted.
Another impressive point is the coloring. They do not use dyeing, they heat print the fabric onto the fabric. This will reduce wastewater generated by the bleaching and dyeing process.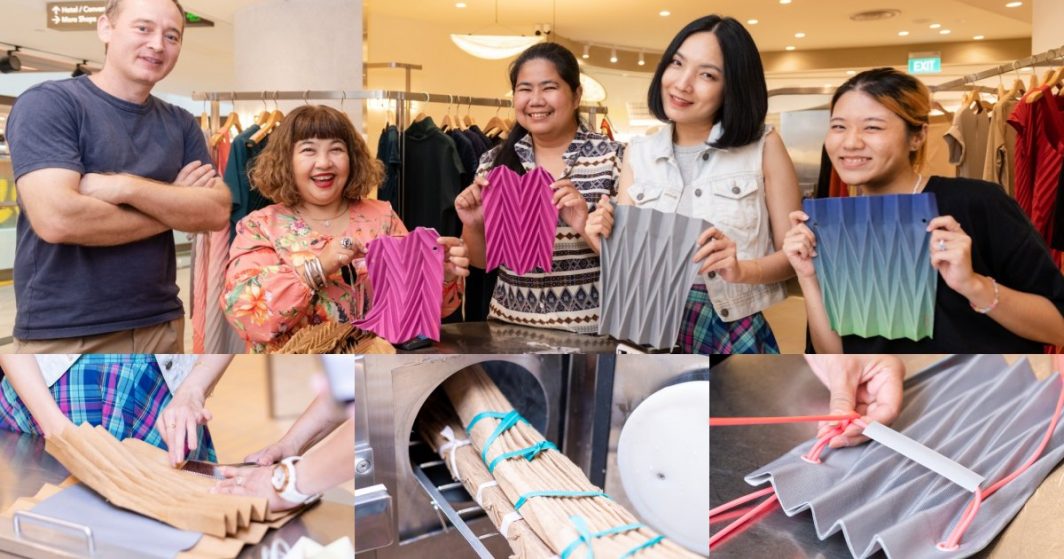 The store has a gimmick where customers can get a workshop on how to make folded bags. We have experienced sustainability. Every process goes through a single fabric bag, and we can choose the colors, ribbons and decoration materials according to our preferences. Then choose a pleated pattern and try to install the pleats yourself. Let me tell you, it's not easy. This is just a small bag, not a long dress. (Some kits require up to 8 people and 16 hands) When successfully capturing folds. (Uncomfortable) tied and baked then take it out and knock on the holes. Tie the handles of the bag, tie a knot, cover the end of the rope, and you're done, you'll have a bag you can be proud of. Because you mix and match the colors yourself. And do it yourself using an environmentally friendly process
…For anyone who travels to Singapore and has time, I recommend this workshop. It was a good experience and I still have some nice bags. I come back and use it too. For those who do not have time but are interested, you can order through the website. We can choose the color of the bag, the pattern of pleats, holes and straps through the website as well.
Experience the essence of Singapore
This program will take you on a walk around Bugis City, Waterloo and Kampong Glam up close, right to your doorstep. Find a great photo angle. Along with including knowledgeable tips about 'Singapore' through deep and real lifestyle and people!
Instawak Adventure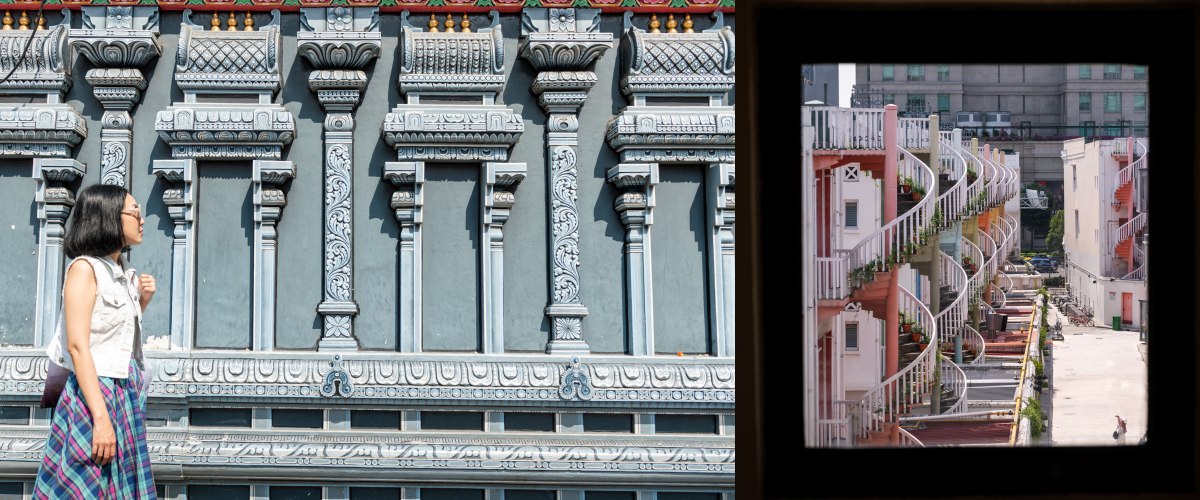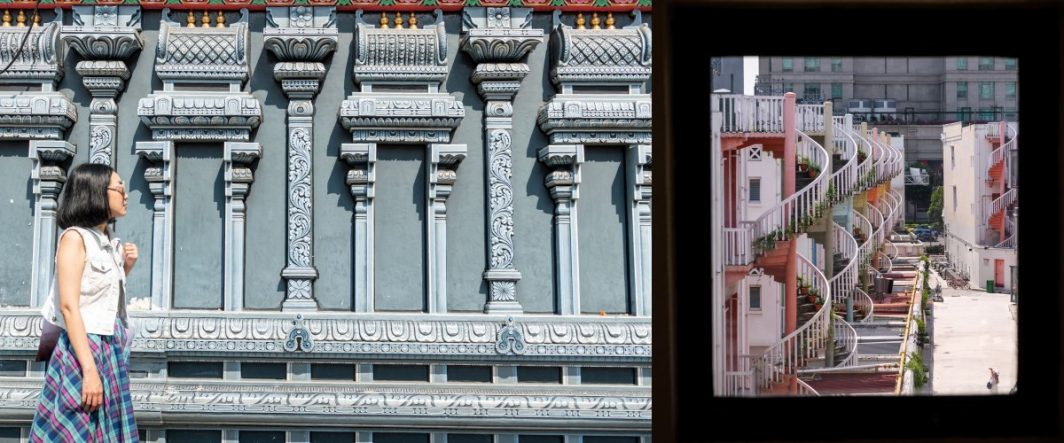 This program will take you to take a closer look at the city. Make a slit all the way to the front door of the house. Find a great photo angle. Along with including knowledgeable tips about 'Singapore' through deep and real lifestyle and people!
Whatever…
Walk around religious sites of different faiths. Located on the same road you can see the mix of people of different races, religions and cultures, for example there is a Hindu temple next to a Chinese temple, and the incense burner in front of the Hindu temple is in Chinese style, donated by the Chinese people in that area. Within sight was the Jewish compound.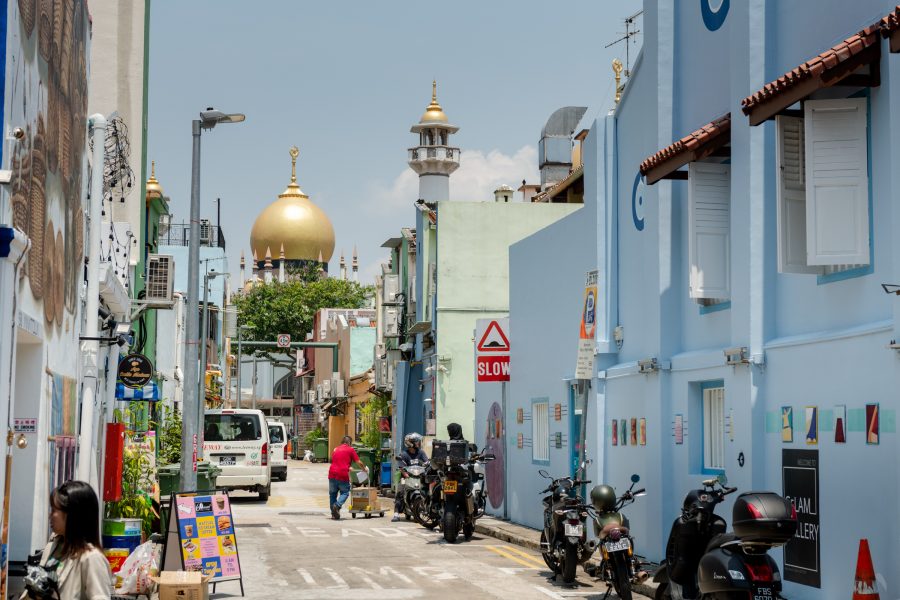 Get a glimpse into the locals' lifestyle on your doorstep. The guide will take us through the residential buildings in that area. From the central area, the area of ​​​​shops and services on the ground floor, to the upper residential area, he is ready to explain how people really live, such as talking about the policy of % of residential sales by race. The authorities will limit the percentage of the building that can be sold to people of Chinese, Indian and Malaysian ethnicity. If the quota for people of that race is exhausted, even if there are parts of other races remaining, they cannot be purchased.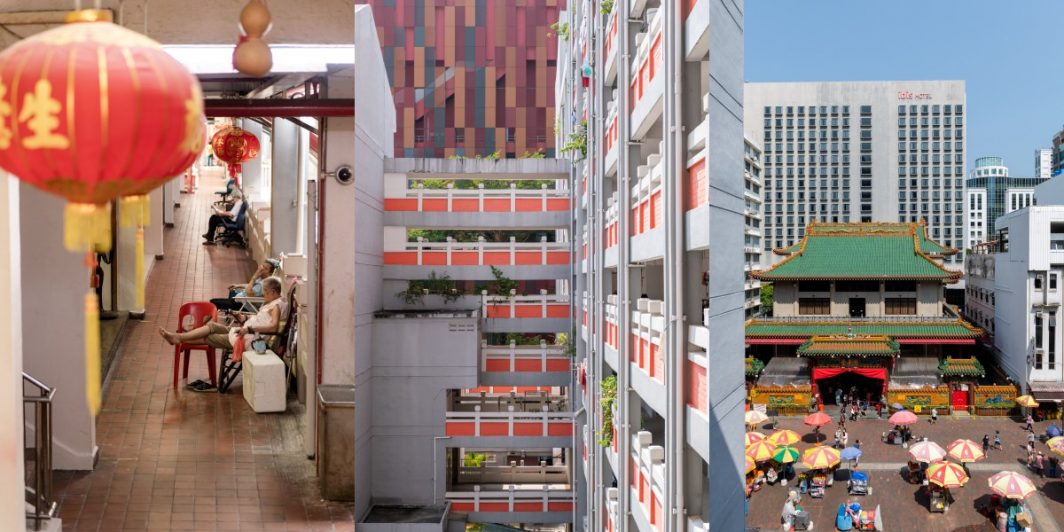 This is so that people of all nationalities can obtain shared housing. Living in the same area will lead to understanding and harmony. This will have to wait a generational time to see the results, but it is worth it. Because as children they grew up in the same area, played together, and went to school together. They will adapt to each other and respect each other by default. For example, the guide's son, who is Chinese, has a close Indian friend who has been playing together since childhood, for example.
Explore feng shui for commercial areas Then it was time to walk to a secret corner to take pictures of the old buildings from behind. End with a walk to see the feng shui of the beautiful buildings in the area. It's fun to listen to, you'll gain good knowledge, and there are plenty of places to take pictures.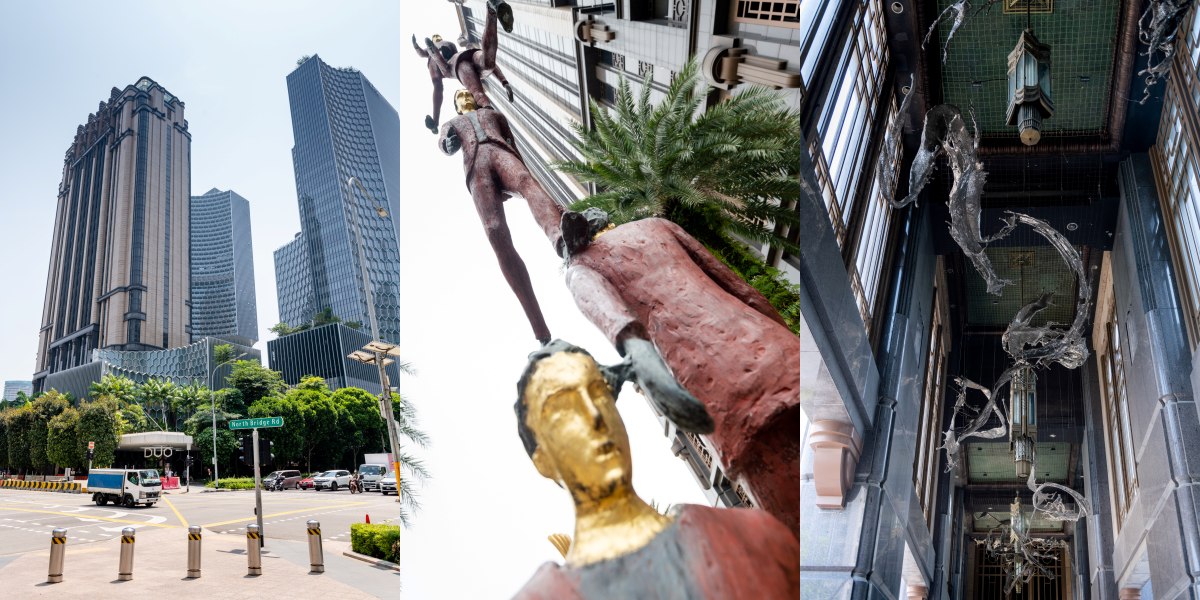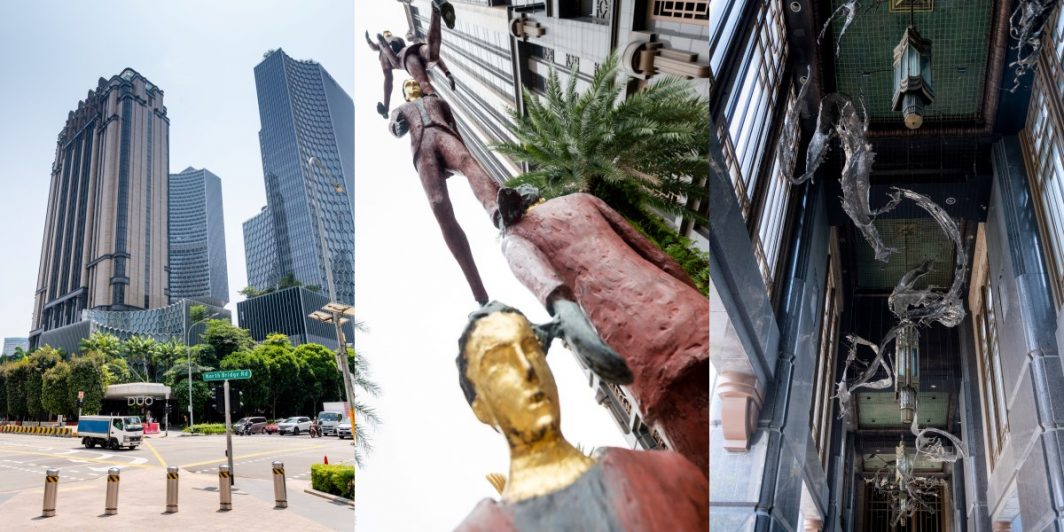 We really liked this program because we were able to experience the life of the locals. Recommended for people who are interested in people's lifestyles or who like to take documentary photos. The feeling is very real.
Singapore Sidecars
Have you ever seen a nice Vespa with a sidecar? In Singapore, we will be in this procession with the men who lead us! You don't have to find a friend to drive you, just book a tour with Singapore Sidecars and they will arrange it with the guys. A vintage Vespa ride to pick us up to catch the breeze and enjoy the view across the city. Willing to stop periodically to take pictures in beautiful places, let me tell you, it was really fun!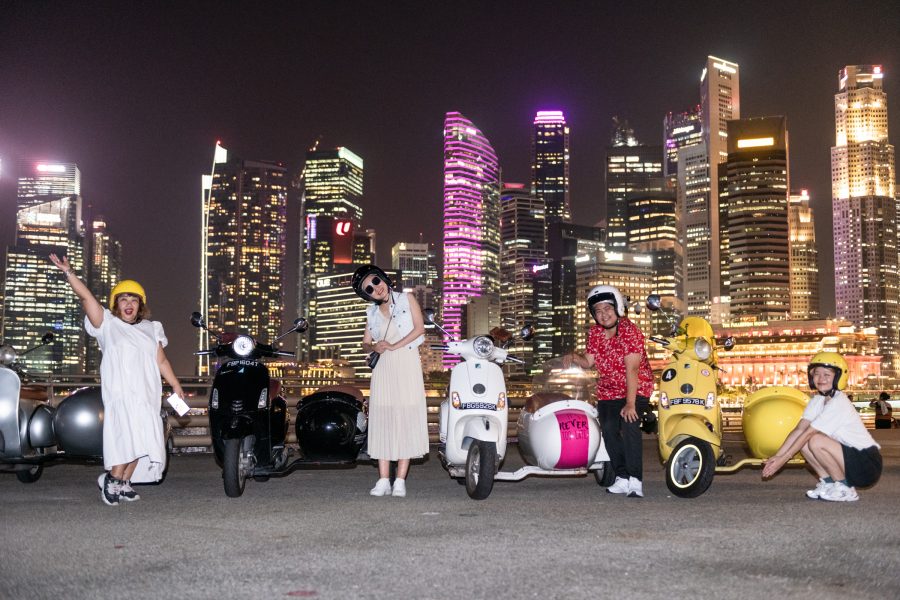 This tour is inspired by a Vespa tour in Tuscany, Italy, and has a connection to Singapore, where a Vespa factory used to be located but production stopped long ago. This model is one of the cars that its owner collected and brought to take tourists.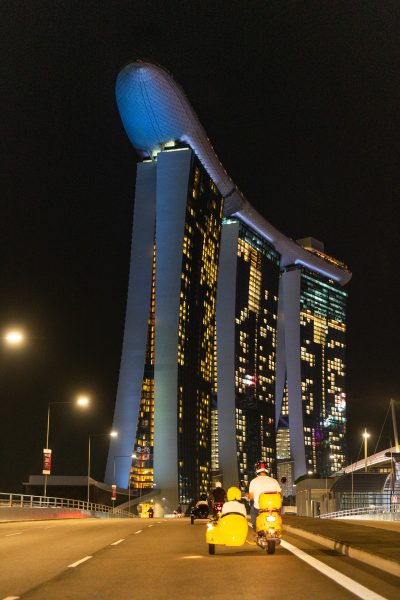 The feeling when I sit down is that I feel so beautiful because everyone on the road is watching me! Some people picked up their phones to take pictures. This is not surprising because when brightly colored sidecar Vespa bikes pass by in convoy, it is really nice. Especially when they stop and stand in line at beautiful places. Such as old bridges, facades of old buildings, or alleys bearing artistic images. On the wall for us to take pictures, it is even more impressive plus along the way you can see the city lights at the same time. Feeling the warm breeze at night, the atmosphere in Singapore city in the evening is very good. It was a moment that truly filled us with satisfaction.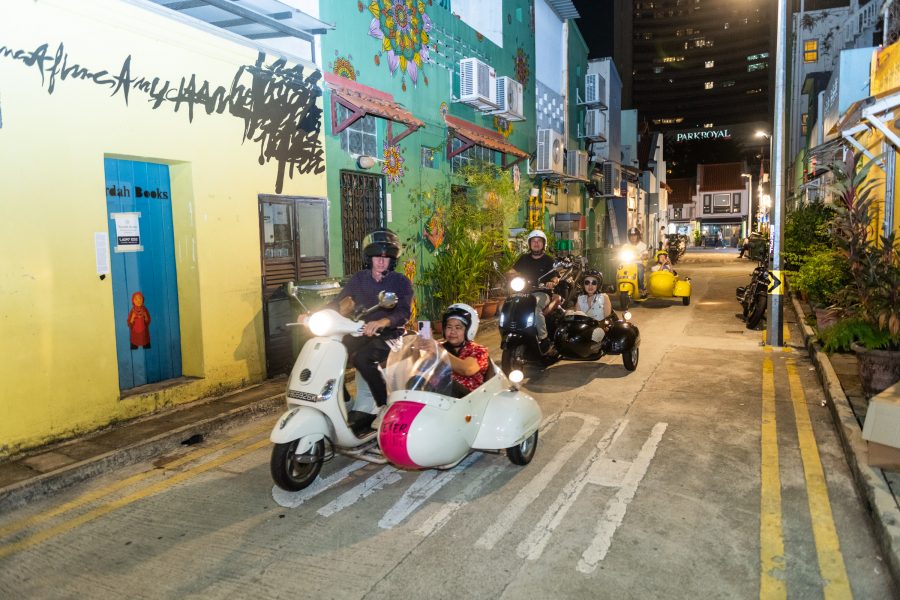 *This tour includes day and evening sessions. We recommend evening time. And do not forget that this country is very close to the equator. The blazing midday sun combined with the intense heat can make us miss the fun. While the weather is better in the evening, the sun is not as hot and you can still see the city lights.
Getting to know people through food
"Food" is one way we can easily experience the local lifestyle. On this trip, we also got to try local Chinese and Malaysian cuisine, and these are the two restaurants I want to tell you about.
Sing Leong pile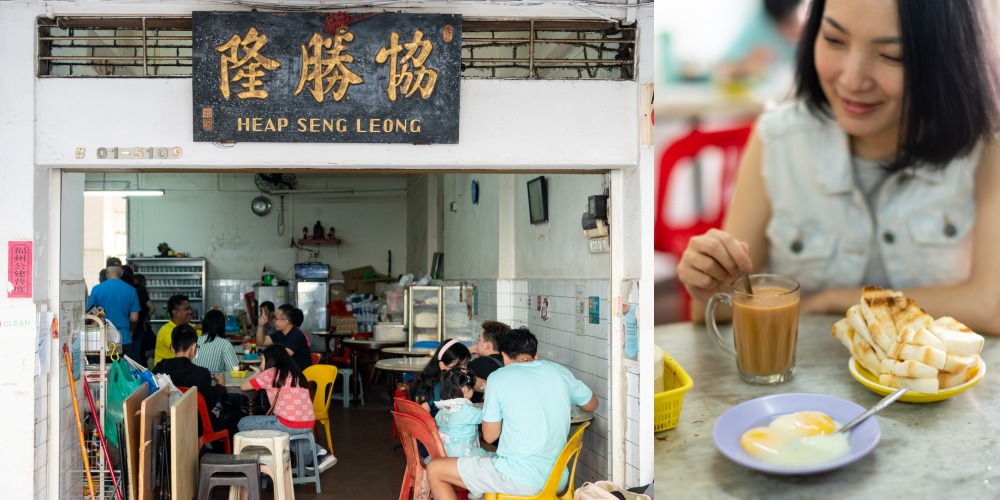 The Chinese-style restaurant has been open for more than 70 years and is a two-story building in a residential area. The atmosphere is like an old Yaowarat shop, no decorations and no air conditioning, but it is very crowded and you have to stand in long queues. Selling foods such as bread, hard-boiled eggs, hot tea and delicious (but perhaps too sweet for some people) tea, the bread is topped with a thin layer of custard. Then we cut the butter into slices and put it. We think the food is of a good standard. But the good thing is that you can really try the locals' food.
Coconut Club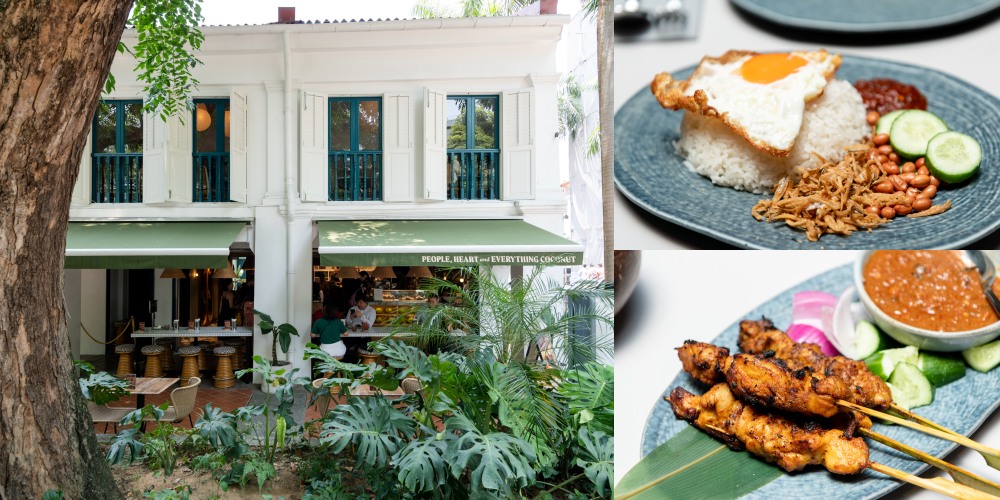 Malaysian restaurant, good atmosphere, beautifully decorated and airy upstairs. Overall the food was delicious. There are many customers as well. But because the space is so spacious, it's not so crowded that it's uncomfortable. The list you don't want to miss is Nasi lemak Rice cooked in coconut milk served with side dishes (fried small fish, fried egg, fried peanuts and chili paste) This dish is delicious, not too oily, not greasy. sate Days of Bombo Kakang Or it is chicken satay in our country, it tastes similar to Thai but drier. Less sweet and has a slightly more pronounced spice aroma
Bhai Sarbat Singapore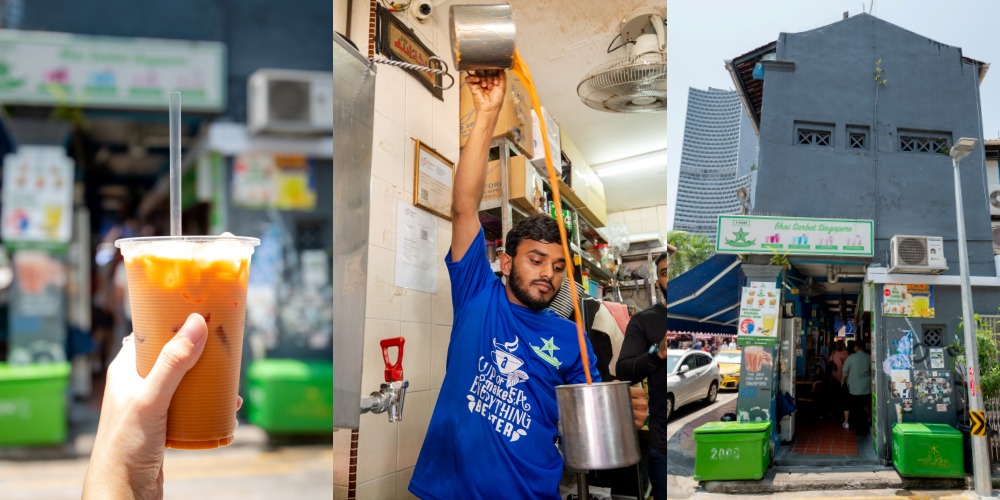 This store is for people who are not afraid of sweetness. It's an old cafe near the Coconut Club. (Walk down the alley next to Shop No. 1. The shop is on the right corner.) The highlight is that it is a tea made from sugarcane juice. It tastes sweet but smells like sugarcane juice, which is very exotic, especially when eaten while walking in the hot sun. It helps to gain the strength needed to continue walking.
This is part of the impression of things from a new perspective. Whether it is to create a green space creating a systematic approach to sustainability to creating a harmonious culture
.…all of this is true in Singapore. A city that makes everything come true thanks to Human Made.
.
Continue for more details and see map. Click on the place name below.
Details in Thai from Singapore Tourism Board
Capita Spring Building (Evening until evening is allowed only for those with reserved restaurants and bars.)
1 Jordan (Reservation must be made in advance)
Instawalk Adventure (Bugis, Waterloo and Kampong Glam Instagram Walking Tour) (You must book in advance + we recommend preparing sunscreen and drinking water)
Singapore Sidecars (Reservation must be made in advance)
Sing Leong pile (Enter and find a table to sit at and then line up to order food inside / the restaurant does not allow ordering curry dumplings in front of the restaurant to sit and eat)
Thank you The Singapore Tourism Board (STB) supports the trip.
About Nishari W.
**Follow Made in Singapore…Make It All Real in Singapore Episode 2 This will take readers to see the new animal attraction and different bird species at Mandai Singapore Zoo and Mandai Bird Paradise next week.
.
Read other interesting lifestyle articles here
Revamp and recharge your body and mind with RXV Wellness Village
Hong Kong 2023, a city of people who love colour, food and people who love photography, #photography lovers will be happy too.
MYS Khao Yai Hotel, a luxurious 5 star hotel, comfortable, warm, beautiful, excellent food.
Go to the South Seas with HYUNDAI STARGAZER, it takes some time but it's so much fun!
12 cute stories what professional matchmakers want to tell single people (If you're not single, you can read this.)
5 reasons why stylish people should check in at Kimpton Kitalay Samui.
Orica Wellness & Capella Hotel Bangkok review…a happy, relaxed and peaceful mind.
Kamalaya Koh Samui, the resort that will leave you feeling physically and mentally satisfied. I don't even want to go anywhere!
"Subtly charming student. Pop culture junkie. Creator. Amateur music specialist. Beer fanatic."