Pravansan Publishing House The winners will be announced in cooperation with Bangkok Bank Public Company Limited. Watch the field (Shoumanard Book Prize) Issue 12 (Fiction) October 10, 2023
with Chatsiri Sovonpanich Chairman of Bangkok Bank Public Company Limited chaired the award ceremony. Dr. Kobsak Futrakul Deputy Managing Director of Bangkok Bank Public Company Limited
Arunocha Panuban, General Manager of Thai Television Broadcasting Company Limited, Naripop Jiravotheerat The event was attended by the President of the Writers' Association of Thailand, Kanukwali Pujanapakorn, Assistant Professor Dr. Trisin Punkhagorn, and Punyarat Punyatistan.
This year 2023, there were 25 entries, of which 8 were finalists, including My Ha…It's Okay, Last Wish, Fa La Tawan, White Cat, Heaven's Fate, Echo of Lamentation, One Night…in it Evening, Canberra and the gray world on the colorful mountains.
Commercial Record. praphansarn
1) The first prize includes: A white cat with a blue fate by Ladwan Yamani Pen name Ruk21us
2) First place is: One night…that evening by Swaana Kayosri Pen name: Kayo Kapoteng
3) Second place is: Gray world on colorful mountains by Sawalak Pipatanukuchai Pen name: Eung Ae
Commercial Record. praphansarn
Winning the award earned him a prize of 100,000 baht and royalties for printing the book. Both Thai and English according to each country's compensation standards for sale abroad
The first and second runners-up receive certificates and a cash prize of 50,000 baht and 30,000 baht, in addition to publishing fees in Thai.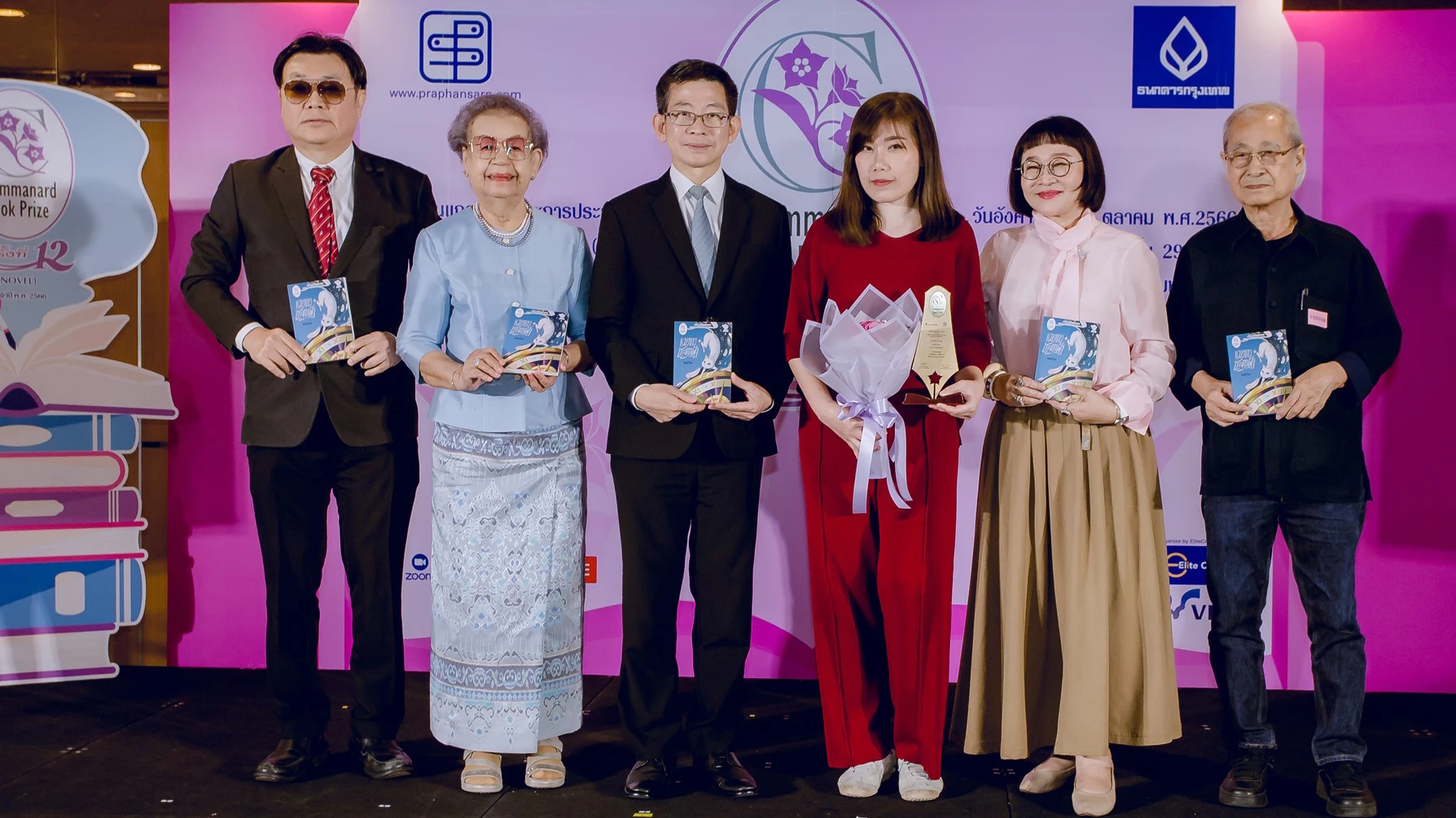 Commercial Record. praphansarn
Award to promote Thai women writers
Dr. Kobsak Futrakul Deputy Director of Administration, Bangkok Bank Public Company Limited said that the announcement of the results of the Chomnad Awards was organized by Pravansan Publishing House in cooperation with Bangkok Bank, this event for the twelfth year.
"This award is intentional. Literature is a medium that reflects society. It makes us look back and look at ourselves. See what is happening and different points of view."
Literature reflects the country's civilization. Countries that have thriving literature also have prosperity in the country.
prize Watch the field It is given to women writers because women have different points of view than male writers. It's an opportunity to honor women with perspective, language, plot, emotion, and character development.
In Thailand there are many famous women writers, such as Tumianti Dokmaisud, and I hope there will be new emerging writers. Being a Literary Leader reflects a woman's point of view for all readers.
We invite female writers to participate in the competition. Because having a female writer is a colorful dimension. so interesting."
Panreet Tishathada Managing Director of Pravansan Publishing Limited said that this year's Chumnad Award competition is more intense than any previous year. Because it is open to female writers to submit works, whether fictional or non-fiction.
"prize Watch the field It aims to promote women writers to have a space to express their writing skills. Without age limit, educational or professional status
Continuing to create in various media, published in Thai and translated into English. Available for sale abroad"
Commercial Record. praphansarn
Vungnit Attivate The original editor's account of it A white cat with a blue fate This story is said to reflect a young girl's struggle into middle age. Where there are mistakes and injustice
"Emphasize the emotional value. Use the cat as a vehicle. It's like going back to fix things that went wrong. Make this story stand out from the rest."
I want more people to submit work. "I would like to see a new generation of writers presenting more diverse work."
Sawairi Imlauer The committee that received the award spoke on behalf of writers residing abroad One night…that evening Which
"The author is a nurse. There is realism in the scene. Psychiatric hospital stories about doctors and nurses, fun and interesting content.
As a director, the general picture of the requests was diverse. But in terms of literature, it still needs to be improved and developed further.
Inviting female writers I send them to the competition because this stage is wide open and in addition to the content I want to focus on the literary arts as well. So that our literature can move forward."
Sawalak Pipatanukuchai Pen name: Engineer I, employer Gray world on colorful mountains The second runner-up said that this is the first time he has submitted his work to the competition.
"It's about loving heterosexual people. The main character is a transgender woman. You have love and relationships with people around you.
What we know may not be what we think. Because nowadays there are more than 30 types of sex.
There is a lot of information on this topic. He studied with Brother Danny, President of the Rainbow Skies Society. What ways does he have and what does he want?
Commercial Record. praphansarn
Focus on finding information from people with real experience. It has a writing style similar to the series. It's complicated to reflect that no matter your gender everyone has their own value.
If we strip away the veneer of gender and race, everyone becomes an equal human being. In dealing with each other, you must also respect humanity.
prize Watch the field It gives an opportunity to those of us who want to write. You just started writing a novel. When you submit it, you will receive a prize. It is an encouragement for us to continue developing.
Which woman has handwriting skills? If you want to write a magazine, try writing, it is a good platform and opportunity for promotion. Pushing writing to an international level can go all over the world."
Commercial Record. praphansarn
13th Shumnad Prize He writes a novel (fantasy novel)
Applications are now open from October 11, 2023 until April 30, 2024.
For more information, see: www.praphansarn.com
………………………
Reference: Pravansan Publishing House
"Internet geek. Friendly coffee trailblazer. Infuriatingly humble musicaholic. Twitter fan. Devoted alcohol aficionado. Avid thinker."