Wednesday, October 4, 2023, 8:22 pm
Siam Paragon opens the exhibition "SIAM PARAGON NEXT TECH x SCBX"
Technology community to learn the world of the future
Siam Paragon is moving forward with its transformation to a new level of definition that meets the needs of living in the future world in every dimension, joining forces with SCBX and strong partners in the technology industry. Digital investment and social media, creating the "SIAM PARAGON NEXT TECH x SCBX" zone, a technology community for learning in the future world, and holding a grand opening with The Global Tech Talk, the first phenomenon in Thailand that brings together important global leaders in the digital industry from Many countries let us come together to share knowledge in one event, in an unprecedented amount.
Siam Paragon, a global landmark in the heart of Bangkok, joins SCBX (SCB) Social Media joins Co-create to open "SIAM PARAGON NEXT TECH x SCBX" (Siam Paragon NEXT TECH) 4th floor, Siam Paragon, with an investment budget of more than 200 million baht, It opens an educational space and develops the potential for those interested in the digital world for all age groups. Exchanging knowledge and entering the world of the future in the digital age and rapidly changing technology. It is a guiding principle for development towards sustainability. This is an important step in transforming Siam Paragon to a new level of definition that meets the needs of living in the world of the future with all Its dimensions, "The World of Tomorrow".
Ms. Thanaporn Thantiannon, Business Unit Manager, Siam Paragon Shopping Centre, said: "Siam Paragon is an important global destination. Which is distinguished as important projects in different countries and has always been number one in the hearts of Thai people and people all over the world. Every day, between 120,000 and 150,000 people visit it, or more than 50 million people a year. This year, Siam Paragon invested more than 3,000 million baht to transform a world-class landmark in the heart of Bangkok. This whole building through the creation of different platforms to be the first new prototype in the world to be an arena for those who are the best in each field. Let's come together to co-create, create work and bring people's lives to a world-class experience that exceeds their expectations.
"Today Siam Paragon announced another step forward in the important transformation towards becoming the world of tomorrow, offering a lifestyle for the world of tomorrow that is astonishing and awe-inspiring. By joining with leading partners in the ecosystem to co-create a technology community "SIAM PARAGON NEXT TECH x SCBX" For learning in the world of the future. On an area of ​​​​more than 4000 square meters, 4th floor, Siam Paragon, a potential educational and development space for people interested in the digital world from every generation. Come and participate in exchanging knowledge, developing yourself and creating inspiration. As well as learning new technology ready to enter the world The future is in the digital age and rapidly changing technology.
Ms. Siriporn Harotaywinyo, Executive Director, Business Relationship Management, Siam Piwat Co., Ltd. said: "Vision is important in transforming the development of the project which is a great destination with this concept of "joining together to create" or co-creation and collaboration. It is a combination of the unlimited potential of the world-leading partners. National and global. Who have different knowledge and experiences to work together to create a great phenomenon in the retail industry.
"Siam Paragon has received great support and cooperation from leading partners in every area of ​​the technology ecosystem, led by SCBX and leading partner organizations that have been founding partners of more than 10 organizations, technology ecosystem partners of more than 100 organizations, and also there are more than 1,000 of Thought leaders and technology experts from around the world come together to create the technology community "SIAM PARAGON NEXT TECH x SCBX". In order to raise another dimension in delivering experiences beyond expectations whether in malls or in the digital world.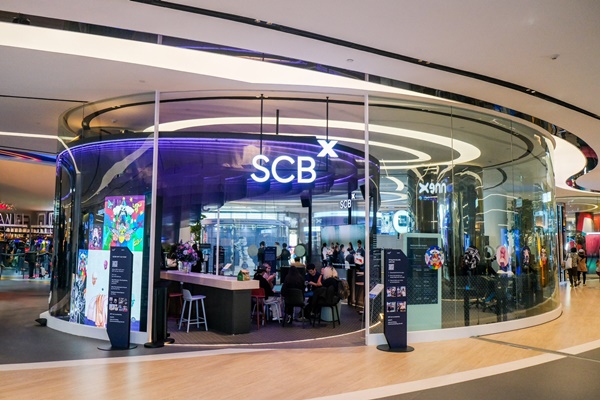 "In addition, Siam Paragon also emphasizes the importance of sustainable development. Therefore (Sustainability) is collaborating with SYNNEX, a leader in the IT ecosystem, in the project 'Disposal in the right place with Trusted By Synnex E-Waste' to participate in helping reduce Pollution caused by e-waste and reducing global warming. Through the installation of e-waste collection point and IT equipment which will be properly disposed of through separation into recycling and recycling processes to promote the most cost-effective and beneficial use of resources. And leads to the process of recycling Zero waste recycling according to international standards as well.
Dr. Arak Suttivong, Executive Vice President of SCB Bank towards becoming a leading FinTech conglomerate in the region in collaboration with Siam Paragon to co-create the "SIAM PARAGON NEXT TECH x SCBX" zone on the 4th floor of Siam Paragon this time. It reflects the shared vision of two leading Thai private sector organizations committed to moving Thailand forward. It will become the next center for digital innovation in the region.
"SCBX introduced AreaX, which was developed with the aim of being part of building a tech community in a potential area located in the heart of Bangkok. Taking the needs and interests of the Tech Talent group as the main focus, the use of the 100 square meter space was divided into two areas, including The first developer lounge in Thailand. With amenities such as an adjustable workstation that comes with a coding monitor that makes it easier for developers and digital nomads to work with ease. In keeping with the work-from-anywhere model in today's world. This is not limited to always being in the office and the experience area, which is An educational space where you can meet, talk and exchange ideas. By coordinating a series of workshops providing knowledge about innovation and technology from companies in the SCBX Group and leading national and global partner organizations. Which will alternate together to provide knowledge and exchange experiences to those interested throughout the year. In addition, several Financial innovations: SCBX Group subsidiaries and the latest technologies from leading partners are showcased on a regular basis in this region so that the general public can experience and have greater access to the world of FinTech.
Mr. Salwit Sweporn, Senior Director of Creativity and Innovation Group at Siam Piwat Co., Ltd. revealed the concept of creating the space as "SIAM PARAGON NEXT TECH x SCBX" within the concept of "Smarter Better Better Richer". To be a hub for the technology community for all areas of technology, giving people interested in digital technology the opportunity to come, learn and develop their potential. From participating in many partner activities depending on your interests where everyone can share ideas or discover new technology together. Ready to welcome global partners from all over the world to offer brand and content experiences and more than 400 interesting workshops throughout the year.
SIAM PARAGON NEXT TECH x SCBX consists of 7 areas to present future communities, which are:
Development connection
A technology developer community that connects technology and different industries
Seamless, in cooperation with leading partners
Blockchain Web 3 and Fintech
Enter the new era of the digital world with blockchain technology and digital assets. A new form of financial technology that connects entrepreneurs, investors and technology enthusiasts for opportunities in the digital world. Endless
New technology
Innovation and new technology will be a tool for the future and support the growth of startups.
Health Technology Center
Providing healthcare ideas and innovations through technology and sustainable methods. To improve human health while protecting the planet, we offer Looloo Technology AI and telemedicine that provides advice on health issues. Ready to create the number one community for people interested in health technology in Thailand.
Players Syndicate
Gamer's Zone People who love games come to share preferences, techniques and emotions in their favorite game genres.
Artificial Intelligence Arena
Communication technology between individuals or groups of people in the online world, including creating opportunities for people to engage in creativity and technology that creates entertainment
Social innovators
Giving opportunities to social influencers and those interested come to share experiences and knowledge together. By global partners
In addition to the presentation space for the seven new future communities mentioned above, there is also a SCBX NEXT STAGE area for knowledge exchange in the form of seminars and workshops, which can accommodate up to 300 people, including a space for displaying artworks in various creative formats to meet the needs of the new generation. Recently, digital art was launched by Miguel Chevalier, an international French artist. Join us in creating an interactive experience with digital art in a way that has never been done before. To create exciting experiences all year round
At the same time, there is also an exhibition area, Curate Innovation Space, which opens with a workshop Robotic Arms by Salt Box_ that will create sculptural art using technology, as well as Space K, a partner from Korea that has created a mixed reality media art space, a media art that blends Between technology, convey different stories and Korean culture through amazing light and colors.
The opening ceremony of "SIAM PARAGON NEXT TECH x SCBX" is the first phenomenon in Thailand that brings together the world's most important people in the digital industry from many countries.
Siam Paragon partners with SCBX alongside leading partners in the technology industry. DIGITAL INVESTMENT AND SOCIAL MEDIA The inauguration of "SIAM PARAGON NEXT TECH x SCBX" a technology community for learning in the world of the future was honored by Mr. Sitha Thavisin, Prime Minister, and Ms. Paitongthan Shinawatra, Head of the Pheu Thai Family. Participated in the official opening ceremony on the fourth floor of Siam Paragon Hotel, aiming to be a technology community to develop the potential of the new generation. Support and push Thailand to become the digital innovation hub in the region.
Highlights of this inaugural event are: The first phenomenon in Thailand that brings together important global figures in the digital industry from more than 50 leading local and international organizations around the world as speakers. Join in sharing the most technological know-how in one event at THE GLOBAL TECH TALK activity from October 4 to 8, 2023, as Mr. Alejandro Navia, Co-Founder and President of NFT NOW, and Mr. Sebastian Borget, Co-Founder and Chief Operating Officer. From THE SANDBOX, Mr. Brendon Matheson, Solutions and Application Innovation Specialist at Microsoft, Mr. Simon Seojun Kim, CEO and Managing Partner of Hashed, Mr. Robin Lim, COO of Singapore FinTech Association, and Mr. Derek Lowe, General Manager International Business from Ant Group's Digital Technology Business Group, Mr. Michael Song, Chairman of Horizen Digital and Director of the Digital Financial Innovation Institute (IDFI) from Zhejiang International Business University, Mr. Atul Harkisanka, Regional Business Head of LinkedIn, and Mr. Dave Davani from CEO of Blue Resources AI and Mr. Hojin Kim, Chief Operating Officer of UNOPND, among others.
"SIAM PARAGON NEXT TECH x SCBX" will have many ongoing activities from partners on a regular basis, such as Android Bangkok, DevFest-Cloud AI Bangkok, Google I/O from Google Developer Group, and SCBX unlocking seminar series. AI by SCBX and Martech Integration Day by MarTech Association (Thailand), Hungarian-Thai Fintech Forum by Thai Fintech Association Seminar on Investment Finance by Finance Bank, organizer of Money Expo, community meetup, workshops and seminars on Fintech, and Blockchain topics Web3, artificial intelligence, health, gaming, social media and many new technologies are open for those interested to attend for free at SCBX. Theater, 4th floor, Siam Paragon
"The opening of 'SIAM PARAGON NEXT TECH x SCBX', a technology community for future global learning, marks a new revolution in the world of shopping malls and retail businesses. To meet the needs of living in the world of the future, it is one of the most important landmarks of Siam Paragon in Transforming it into the world of tomorrow.
"Reader. Infuriatingly humble coffee enthusiast. Future teen idol. Tv nerd. Explorer. Organizer. Twitter aficionado. Evil music fanatic."