Complete design–photo shoot–efficiency Superior in every aspect
OPPO Thailand Giving a new definition to foldable for the first time with the launch of "OPPO Find N3" and "OPPO Find N3 Flip" in Thailand, packed with the most advanced innovations and superior in every aspect. Both design – photography – outstanding performance There are different styles. The most powerful thing is to raise the level of smartphones with foldable screens so that they are no longer what they were, while highlighting the most prominent features of the OPPO Find N3, which is a smartphone with a foldable screen at a pioneering level that is distinguished by its light weight, thinness, and strength with the best imaging technologies in all smartphones with screens. Foldable. Launched with the OPPO Find N3 Flip, it continues the hot trend from the previous model. Let us fold with a better camera with 3 cameras that comes with Telephoto Portrait Camera for the first time on a foldable screen smartphone. You can now try it together at all OPPO Brand Shop branches and distributors across the country.
OPPO is ready to enhance society through innovation and cutting-edge technology. Continuing the trend of smartphones with foldable screens that is still going strong. With new needs and a wide range of customers OPPO is ready to provide new experiences. With a new definition of folding through the latest innovations in these two models
OPPO Find N3 A flagship-level foldable screen smartphone a light Thin strong
OPPO Find N3 is a foldable screen smartphone that truly redefines folding. With a 6.3-inch high-quality screen on the outside, it measures 7.8 inches when opened and weighs only 239 grams, which is lighter than general flagship foldable screen smartphones and is only 5.8 mm thick when opened. This makes it easy to hold with one or two hands to message, browse the web, or play games. The reason for this level of thinness and lightness is OPPO's updated third-generation Flexion Hinge hinge system, which consists of a liquid metal made of zirconium and aircraft-grade steel. It provides a smooth folding experience, is durable and very light.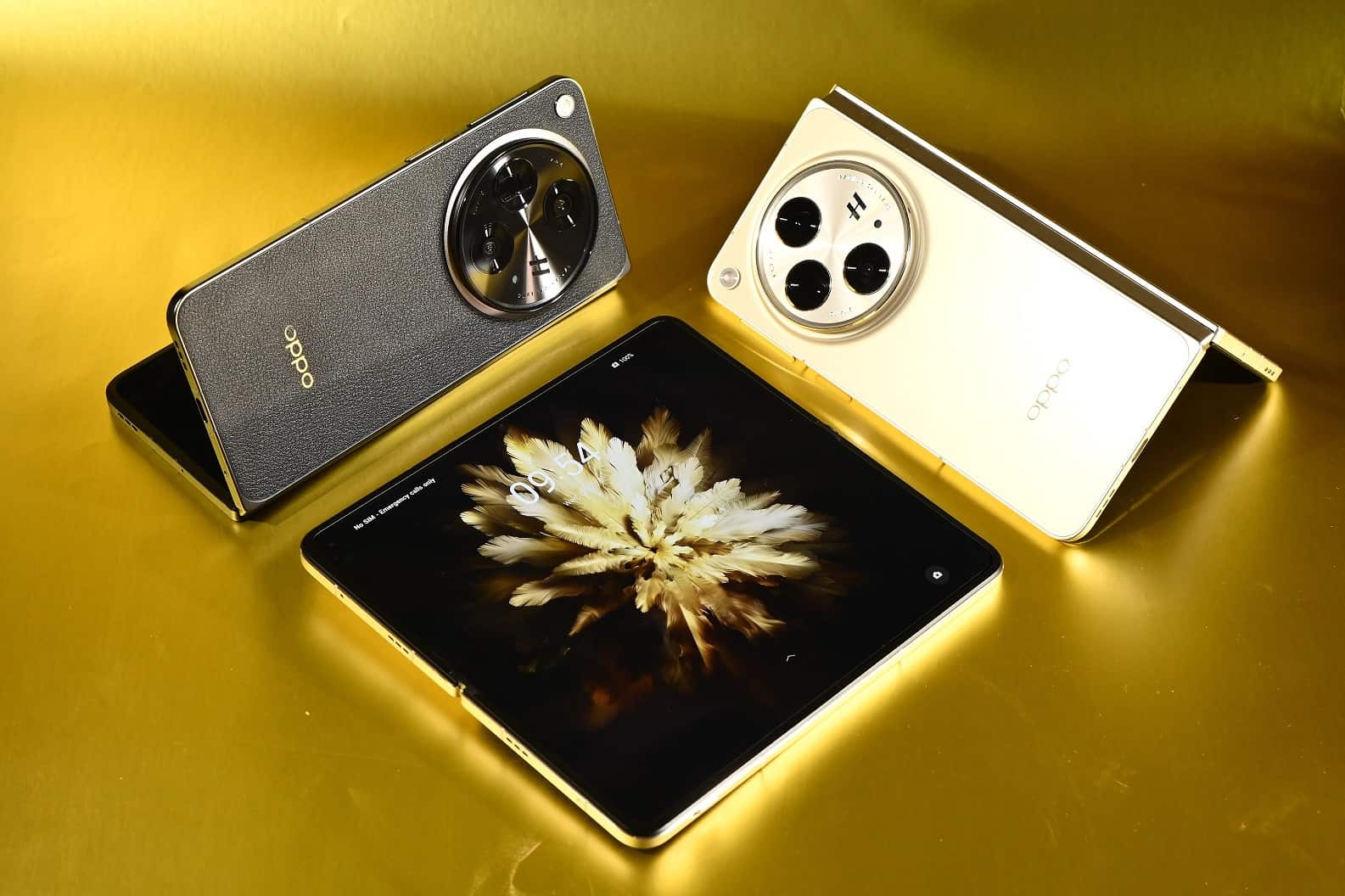 OPPO Find N3 is powerful with the best photography technology among foldable smartphones. With a powerful triple rear camera system for the first time in a foldable smartphone, consisting of a 48MP Wide Camera, a 64MP Telephoto Camera, and a 48MP Ultra Wide Camera supported by an innovative stacked pixel sensor, which helps produce professional-quality images. The best comes. Equipped with a Periscope Telephoto Camera that offers 3X ​​optical zoom and 6X lossless crop zoom. Creating masterpieces is also made easy with Hasselblad Portrait. The mode produces images with a natural depth of field. Perfect contrast and high-definition details whether shooting during the day or at night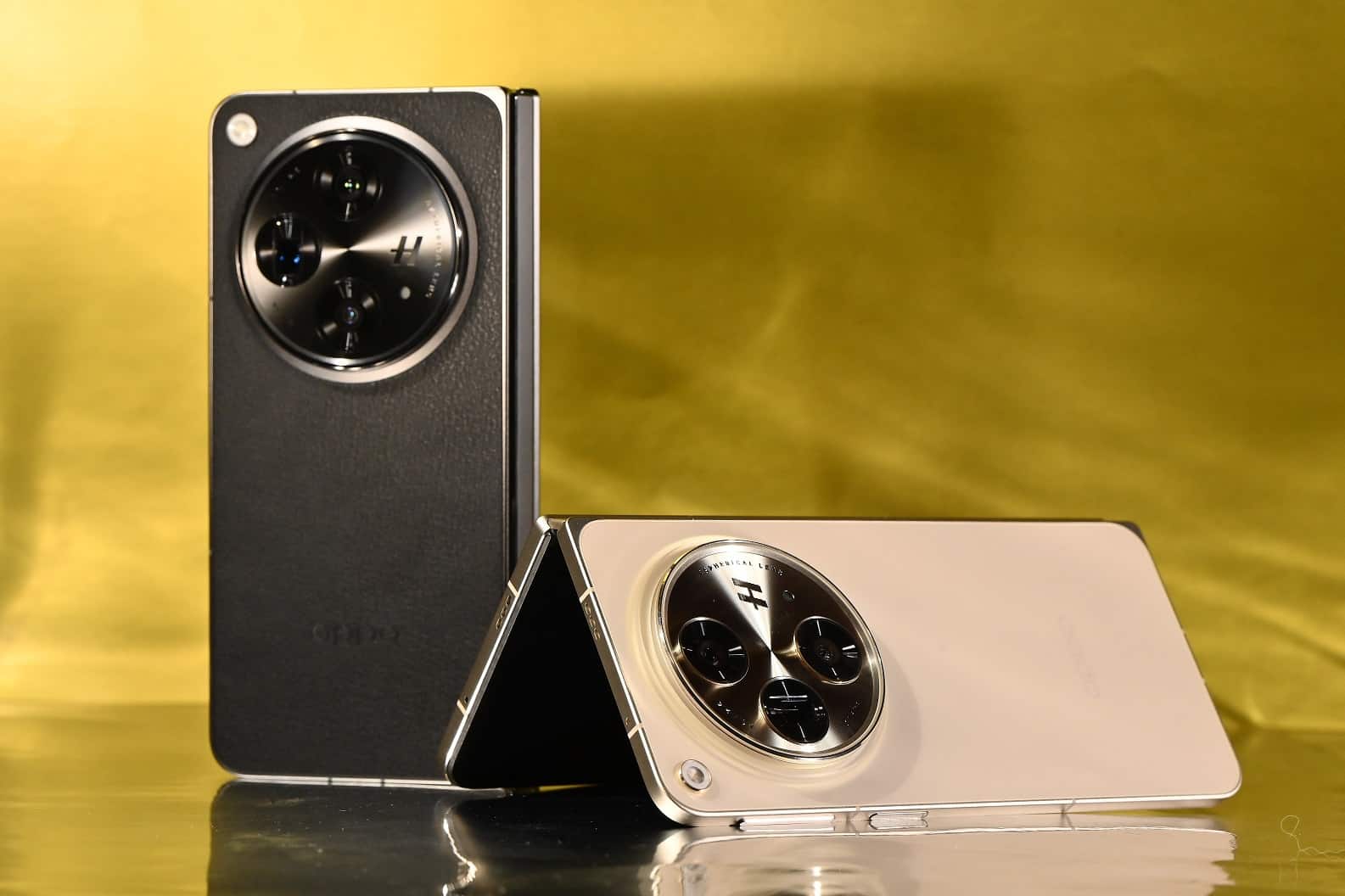 OPPO Find N3 is powerful and performant. Can be used as two in one Whether folded normally, the size is equivalent to the size of a smartphone. Or open it up for a wide, 20:9 gold ratio display with maximum brightness and clarity. With barely visible folds make this foldable screen smartphone the perfect place for work, entertainment and gaming. It also comes with Color OS, enabling Boundless View, and opens up to 3 full-screen apps on the 7.8-inch display to support a variety of tasks at the same time. To support work to your heart's content, the OPPO Find N3 should come equipped with the power of Qualcomm Snapdragon 8 Gen 2, making processing smooth and uninterrupted. It includes a large 4800mAh battery that supports 67W SUPERVOOC fast charging which can charge more than 80% in just 30 minutes and fully charge 100% in 42 minutes. Comes in two colors: champagne gold and classic black.
OPPO Find N3 Flip Foldable with better camera
Continuing the hot phenomenon of the OPPO Find N2 Flip, the previous generation of the foldable screen smartphone. OPPO takes design to the next level in the latest OPPO Find N3 Flip with the classic style of the rear camera system that comes with the Cosmos Ring, which is surrounded by a Starlight Track inspired by the aperture control ring of professional camera lenses that makes the design of the device stand out when paired with a beautiful vertical external display. It comes in new colors, including Cream Gold, Misty Pink, and Sleek Black, which nod to the style of different users. While folding open and closed is smooth and sturdy with the third generation Flexion Hinge system, there are barely any noticeable creases on the screen.
OPPO Find N3 Flip is called the foldable screen smartphone that takes the most beautiful photos. With a groundbreaking triple-camera system, including a 50MP main camera, a 48MP ultra-wide camera and a 32MP portrait camera, it's the first time a smartphone has been made with a foldable display. This comes with the Telephoto Portrait Camera, which combines the power of 2X optical zoom with a large sensor. The OPPO Find N3 Flip captures beautiful, natural photos with balanced details, and is the best among foldable screen smartphones on the market. While capturing wide images with the ultra-wide lens, it is also excellent. Including continuing to maintain Hasselblad's unique image results and color saturation.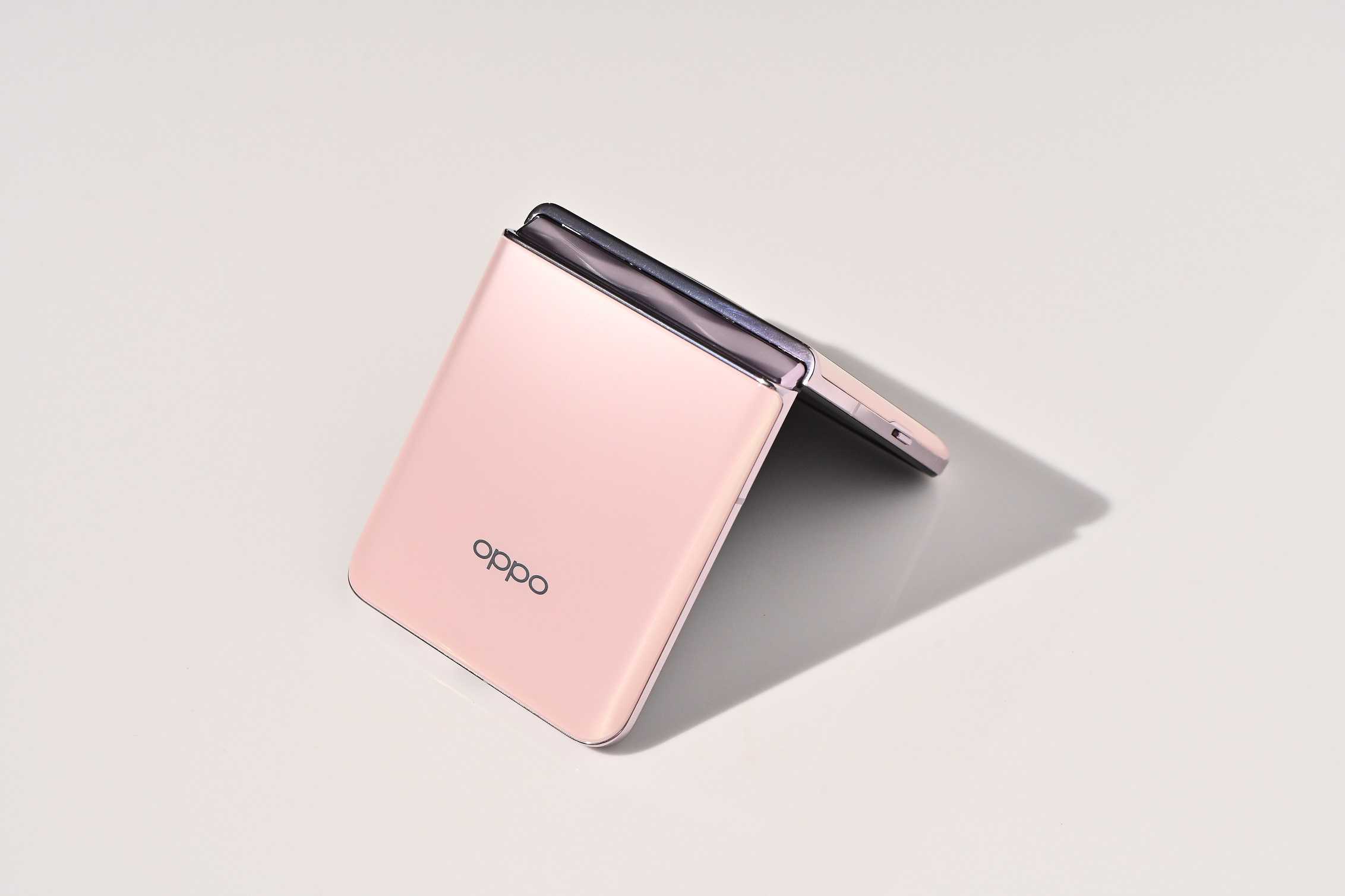 OPPO Find N3 Flip can be used all day long thanks to the large 4300 mAh battery that supports 44W SUPERVOOC fast charging which can charge the battery from 0-58% in just 30 minutes, while the large external screen is enough to use it to answer messages. Or scroll through your social feed. Without having to open the screen inside, it comes with an upgraded applet to support more apps. Including a new pet dimension to interact with users on the external display with the upgraded Interactive Pet feature to allow for fun 3D interactions. It also supports the use of two 5G SIM cards for fast communication with the world.
As for the OPPO Find N3, a flagship-level foldable screen smartphone that is lightweight, thin and powerful, it is available at 69,990 baht and the OPPO Find N3 Flip is available at 34,990 baht for those who order the OPPO Find N3. The OPPO Find N3 Flip presented between today – Oct 30, 2023 Get free gifts instantly with a total value of 44,898 baht.
to OPPO Find N3 Consisting of
OPPO Find N3 Protection Kit (PU Case and Screen Protector) is worth 1,999 baht
OPPO Enco Air3 Pro worth 2,999 baht
E-VIP Card (for 2 years) worth 39,900 baht
to OPPO Find N3 Flip Consisting of
OPPO Find N3 Flip Portable PU Case, 1,199 baht
OPPO Enco Air3 worth 1999 baht
E-VIP Card (for 1 year) worth 15,000 baht
private! When ordering from a network service provider, get a discount of up to 20,000 baht and access to special OPPO Premium service, including international warranty service. Sending hotfixes or various film installation services. Ready for yours today at all OPPO Brand Shop branches and distributors across the country.
Analyze and delve into each fact honestly with me, Nithi Thuaprathom.
Don't miss any information, news, car news, new cars, special scoops, test drives, don't forget to follow our YouTube channel – auto lifethailand tv
Contact the ad
Project Manager (Khon Am)
Tel: 0895335115
Email: [email protected]
Or email via Facebook Fanpage https://www.facebook.com/autolifethailand.tv
Car reviews, car brand news, lifestyle, new cars
"Unapologetic communicator. Wannabe web lover. Friendly travel scholar. Problem solver. Amateur social mediaholic."